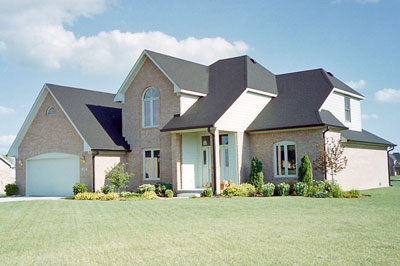 This move got us out of the city, and the new neighborhood was filled with young families with lots of kids Ian's age, and the long and winding streets offered a safe environment for bike riding with Ian's new friends.
Paradise Island
Just as we were beginning to plan our upcoming, fourth vacation to visit Marcia's brother Mark, I had an idea. Our Keys vacations always included time on the water—How about inviting my friend Wendell from work to join us, and he could be my dive buddy? I had snorkeled for years, and had recently completed my basic open water diver course just so I could dive the next time I went to Florida. Like many Indiana divers, Wendell and I had both learned to dive in the dark, frigid "fresh" waters of the limestone quarries, and we were both longing for a warm, saltwater dive. This would be our first.
Mark had never met Wendell, but I knew they'd hit it off, and when I told Mark about my plan and asked for his approval, he answered with a resounding yes. Next, I told Wendell about my idea, asked him to join us, and the rest is history.
A few weeks later we received a phone call from Mark, who was extending an invitation from our friend Fred. The first year we visited Mark in the Keys, we met a number of his friends including Fred and his wife Mary. Mark worked for Fred at Townsite Supermarket and he also considered Fred and Mary to be a very close friends. As soon as we met them, we shared his adoration, and we always looked forward to seeing them on our annual visits to Key Largo. [Read more about Fred and Mary in School's Out.]
Fred and Mary were planning a short, four-day gambling excursion to the Paradise Island Resort in the Bahamas, and they wanted Mark to join them. Mark told him he'd like to; however, it was during the time of our visit. Once Fred realized that we were coming down, and that we had never been to the Bahamas, he suggested that Mark call us and see if we'd like to join them.
The trip to Paradise Island would be an extension of our Keys vacation. We'd fly out of Miami, stay at the resort, and then return to the Keys for a few days before returning home. Since Wendell would be riding down with us to Mark's, he could catch a flight back to Indiana when we left for the Bahamas, so that he could return to work. We said yes of course, and then planned to extend our vacation so that we could start in Key Largo, and then fly over to "Paradise" on our way home.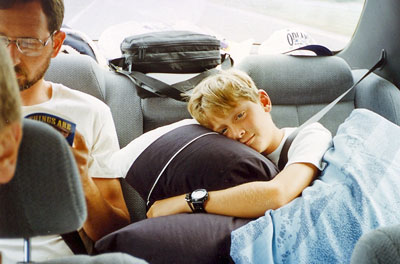 On the ride down, Wendell kept Ian company—that is, when Ian wasn't sleeping. Ian liked Wendell, and obviously Wendell liked Ian—so much that he asked Ian to be an usher at his wedding a few years later.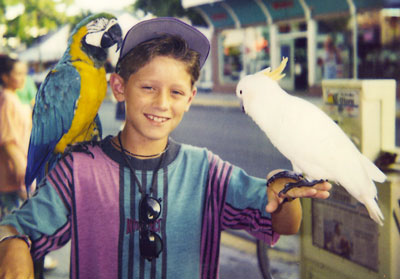 Once we arrived at Mark's, we introduced Wendell to several of our favorite bars and restaurants in Key Largo, Holiday Isle and Islamorada, and then our adventures took us to Key West for a day.
"Yes, I agree, Key West is for the birds, but please don't poop on my shoulder!"
When we returned to Key Largo, it was time to spend a little time on the water. Mark had a friend named Todd Firm who used to work with him at John Pennekamp Coral Reef State Park. Back then Todd was the captain on the Discovery Glass-Bottom Boat, and Mark worked on the Discovery in the concession stand. Todd left the park not long after Mark, and he had recently purchased a forty-seven passenger snorkel boat, Keys Diver.
One afternoon Mark arranged to take us out snorkeling on Keys Diver. This was also an opportunity for us to meet Todd, and Ian took an immediate liking to him.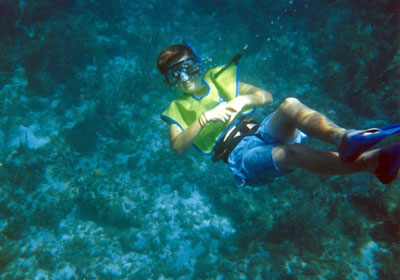 It was a great day to snorkel. The weather was beautiful, with a light breeze and near-perfect seas. By now Ian was very comfortable in the water, and was proficient snorkeling and free diving.
We had a wonderful time on Keys Diver, snorkeling, soaking up the sun, and just relaxing. At the end of the afternoon as we returned to port, I spent quite a bit of time talking with Todd about the Keys, and what it was like to work on the water. At that time I could never have imagined that one day Ian and I would both work on the water, for Todd, on that very boat.
The next day, not forgetting about our original intention to go scuba diving, Mark borrowed Fred's boat, and we returned to the reefs, only this time under water.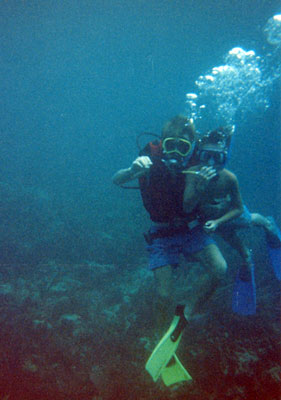 I must confess, because Ian was so comfortable in the water, and because Wendell and I had both spent time with him breathing compressed air through a regulator before leaving for vacation, I let him free dive down to me, pick up my octopus, and hang out with me on the bottom. He was nearly ten-years-old at the time, and personally I thought he was ready for diving.
Today he would have been eligible for open water instruction and Jr. Open Water Diver certification, but back then, diving at his age was a no-no.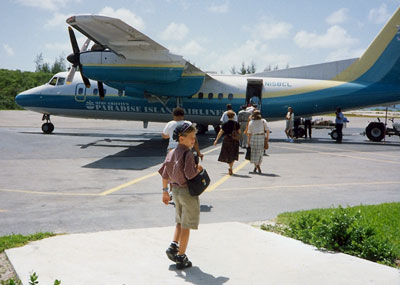 A day or so later we were off to Miami international; Wendell, northbound on a jet airliner back to Indiana, and me, Mark, Marcia, Ian, Fred and Mary, eastbound on a puddle jumper to Paradise Island. This was Ian's first flight, and he was very excited and couldn't wait to board.
Mark drew the short straw, and Ian managed to snag the window seat for our short, hour-long flight which ended on an equally short airstrip, that somehow managed to accommodate our small plane.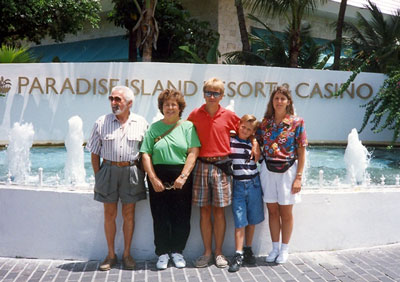 A few minutes later we were standing beside our luggage on Bahamian soil, with Fred hailing a cab, "Big car! Big car!"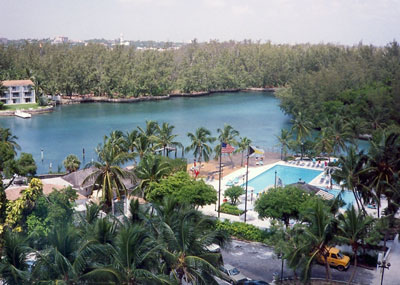 Our hotel was beautiful, and as excited as we were to visit the casino, our first priority—after checking in and changing clothes—was the pool, and a pina colada, not necessarily in that order. Fortunately we didn't have to choose, the bar was in the pool. I'll never forget the look on Ian's face as he sat on his stool in the chest-high water sipping his virgin pina colada.
Fred, Mary and Mark were regulars at Paradise Island. Mary enjoyed relaxing at the resort, and occasionally did a little gambling, but Fred and Mark were diehards, particularly the slots. Most people seem to have a love/hate relationship with slot machines and usually leave the casino with a bruised wallet. That said, Mark and Fred were the exceptions. And although Mark didn't quite live up to our expectations based upon his previous Paradise Island winnings—he still came home with more money than he took. Fred however, was on fire, and was well-rewarded for his patience and risk taking. When he was losing and didn't feel the mojo, he'd walk away, and come back later when his luck returned, often times in the wee hours of the morning.
Because of that Fred's success at the casino, he was well recognized, and he knew most of the hotel managers, including Kendall, the general manager. Kendall and Fred were friends, and Kendall had even been a guest in Fred and Mary's home. One night Kendall treated us to dinner. He was pleasant, and the conversation flowed freely as we talked of his life in the Bahamas and of his time in the states, where he had attended college.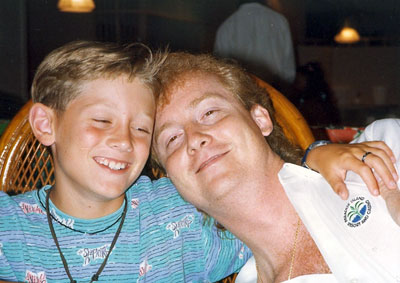 The evening passed quickly, and at the end of a marvelous meal Kendall introduced us to his favorite ice cream, rum raisin, which was wonderful. What a great way to spend an evening, fine dining with fine friends, and the best uncle in the world.
After dinner, while Marcia and I were busy contributing to the casino's bottom line one coin at a time, Ian usually hung out in the game room. Occasionally he would stop by to check out the action at the slots, and although children were generally not allowed on the casino floor, the staff usually looked the other way—at least when we were with Fred.
Once evening we were going to meet Fred in the casino, and we were early. When we arrived we were stopped at the door, and told that Ian could not enter. We sat down outside and waited for Fred, Ian pouting with disappointment. Fred walked up, saw Ian, and said, "Why the long face, Ian?" Ian said, "They won't let me in. They said I'm too young." Fred said, "Let me see about that." Fred walked in and called for the pit boss. When he arrived, Fred pointed to Ian and said, "They said he can't come in. My man can't come in, I don't come in." The pit boss immediately apologized, and motioned us in.
As Fred sat down at a machine, Ian standing behind him, the pit boss said, "He can stay Mr. Fred, just don't let him near the machines." Fred nodded, thanked him, and as soon as the pit boss was out of earshot, Fred handed Ian a tray of large denominational coins, and pointing to a machine next to him, he said, "Here Ian, you play this one."
By the following year, Ian had outgrown his old bicycle, so for his eleventh birthday, Marcia and I gave him a new one.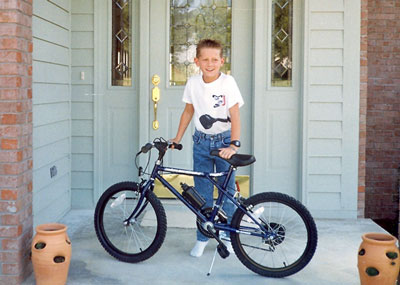 When it came time for birthdays, Ian always made great choices for where he wanted to go to eat. Well not always; there was Showbiz Pizza Place, but that's another story. And, he was also fond of the now defunct Chi Chi's Restaurants. Come to think of it, maybe he didn't always choose good restaurants. In any case, for number eleven, he chose Lone Star Steakhouse. By now he had developed a taste for steak; rare of course—as if there is any other way to eat it!
Lone Star—at least at that time—was known for the limitless offering of peanuts on every table, and like everyone else, Ian loved tossing the shells on the floor. Ian decked out for dinner, and wore his favorite Levi Denim Jacket (remember this). Everyone had a great time celebrating his birthday: great food, family, etc. This was also our first exposure to waitresses dancing on chairs to the sounds of "You Never Even Called Me By My Name."
A couple of weeks after Ian's birthday, I attended a work-related conference in Boston. This was my first trip to Boston, but having some understanding of the historical significance of the city, I wanted Marcia and Ian to attend. I figured this might well be our only trip there, and I thought we could experience the history together. In fact, the timing couldn't have been better; Ian was studying the American Revolution in school. Ironically, his teacher objected to us pulling him out of school for couple of days; he couldn't quite fathom that Ian might learn more by actually experiencing history, rather than just reading about it in class.
In any case, in the short time we had, we did it all. Boston is an amazing city; a wonderful contrast between old and new, soaring skyscrapers towering over historical colonial buildings—all dwarfed in their presence. We enjoyed a self-guided tour on the Freedom Trail; during which, Ian stood at the site of the Boston Massacre, and saw the graves of John Hancock, Samuel Adams, and several other early American patriots, including Paul Revere, whose house we also toured. We visited the Old South Meeting House and Old North Church, and climbed the 294 steps to the top of the Bunker Hill Monument. Finally, we were especially fortunate to tour the recently reopened USS Constitution, with actual Navy Seamen as our guides.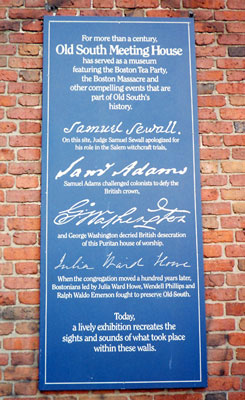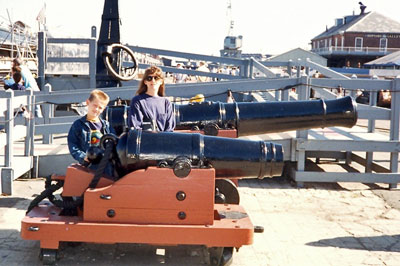 Toward the end of our journey, we walked the Boston Common, and were taken aback by the simple beauty of this park, smack-dab in the middle of the city. Before long, Ian became aware of a couple of squirrels running about, and apparently remembered that he had stowed away a few peanuts from the aforementioned trip to Lone Star in the inside pocket of his Levi jacket.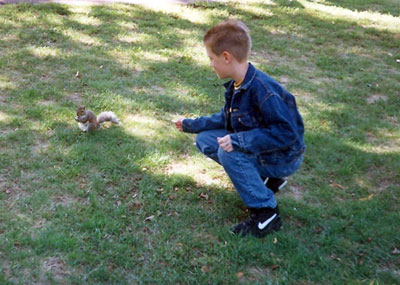 Time for a quick photo, and then (unfortunately) the camera was back in the bag. Soon, Ian had the squirrels literally eating out of the palm of his hand, and within a couple of minutes they were joined by several friends.
As Marcia and I watched from a safe, comfortable distance, Ian ran out of peanuts, stood up and backed away from the squirrels. Unwilling to give up a free meal so easily, the squirrels crept back toward him. Ian backed up further; and undaunted, they advanced all the more.
Ian turned and ran, watching over his shoulder in horror, as the squirrels chased him. Then he ran faster, screaming, arms in the air. All Marcia and I could do was laugh! It was so funny; I couldn't even manage to grab the camera back out of the bag for a quick shot of the mayhem. Eventually the squirrels gave up, and Ian was safe once again.
Boston was Ian's first exposure to homeless people and panhandlers, who were extreme to the point of where someone would open the door at Dunkin' Donuts, with the expectation that you would drop change into his tin cup. At that time I was a hardcore conservative, and thought I could use this opportunity to teach Ian about the virtues of working, and the indignities of begging.
Late in the afternoon, as we left Faneuil Hall Marketplace, we came across an older man with the oft seen hand lettered sign, "Will Work for Food." Sensing a wonderful opportunity to teach Ian a vital lesson, as we left the man's earshot, I asked, "What do you think about that?" He immediately replied, "Dad, I feel like going back and giving him some money." I went nuts! Instantly I felt the wave of outrage as it flushed over me. I had spent years trying to teach him the same ideals I had learned as a child from my parents; that there is dignity in all work, and that all able-bodied people should work. I snorted, "Ian, I work for food. We all work for food. And housing, and everything else we have. Why is he begging? Why can't he get a job like everyone else?" Not missing a beat, Ian looked up and said, "Dad, look at him; he's a dirtbag. Nobody's gonna hire him . . ."
Just after Ian's eleventh birthday, he began badgering us for a pet. Since we had sent Sasha off to live with Mark when Ian was only a few months old, he had never had a pet—the short time as a baby, crawling around with Abbey didn't really count. Marcia and I gave it a lot of thought, and finally came to the conclusion that the right pet would help instill responsibility in Ian, but we wanted a low maintenance and cuddly pet—so much for dogs and goldfish.
At that time I was still an EMS instructor at Methodist Hospital, which presented a wonderful opportunity. In our paramedic program (the best in the entire world), toward the end of the program, students were taught neonatal endotracheal intubation using anesthetized kittens.
Don't worry, "No animals were harmed during the making of these paramedics."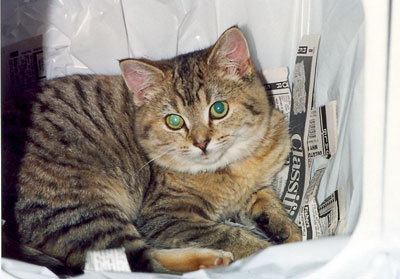 The standard practice of our hospital was to offer the kittens up for adoption prior to this lab; and invariably, all were adopted. A day or so before this particular lab, Marcia and I went down to meet the kittens. They were an unimpressive hodgepodge of fur, with the exception of one little beauty, who quickly caught Marcia's eye. Marcia saw her in the litter box, and comforted with the knowledge that it was "potty trained;" she exclaimed "That's the one!" Well, it was a her, and a couple of days later, she was off to her new home in New Palestine.
We totally surprised Ian. He had been out playing with his friend Mitch, and when he came into the house, I was nonchalantly holding the kitten on my lap. When he saw her, he freaked; he was so excited. Ian decided to name her Mercedes, from Heather Graham's character from the 1988 movie License to Drive. From that point on, forever, they were best buds.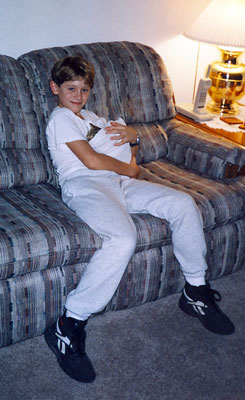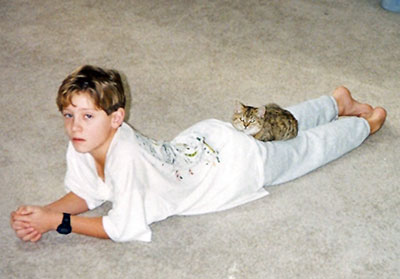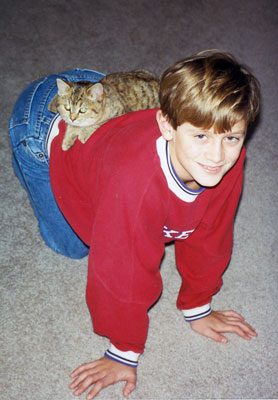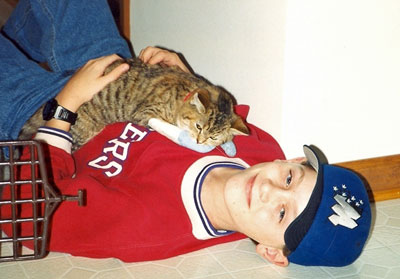 The Wonder Scarf
With each passing year of public school, Marcia and I became increasingly concerned about the quality of education Ian was receiving. We were concerned that the curriculum was too diluted, with too little focus on the basics. More so, we were concerned about the lack of classroom discipline, of which Ian was too quick to take advantage.
So we began to take a look at parochial schools in an effort to find a school with a curriculum that focused on teaching basic skills in a disciplined environment that demanded respect for authority and self-discipline. Our search brought us to Zion Lutheran School, just a couple of miles from our house. Zion was a good choice, and Ian was quick to make friends with his new classmates, one of which was our next door neighbor, Mitch—so the transition was quick.
Ian needed a project for Zion's upcoming science fair, and not wanting to enter just any project, he decided to showcase a bit of originality by offering up his very own creation. Pondering the possibilities for the perfect invention, Ian called upon his own dislike of cold weather and endeavored to create a device both practical and fashionable.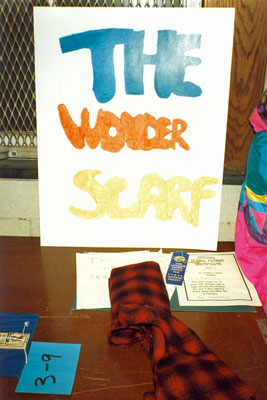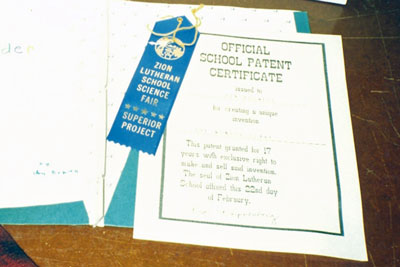 With a little help from a skilled volunteer seamstress (Mom) his brainchild became reality, and voilà! The Wonder Scarf was born. The Wonder Scarf combined the warmth of a traditional flannel scarf with the simulated look of formal Haute Couture design—all in a compact, sporty, and easy to slip into Dickey!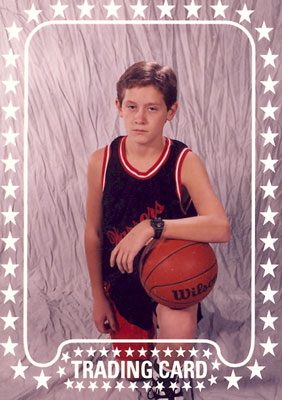 In addition to a change in curriculum, the change in schools also opened the door to new sports opportunities. Ian began to play soccer, which he loved; and before long, fall became winter, and the opportunity to play basketball.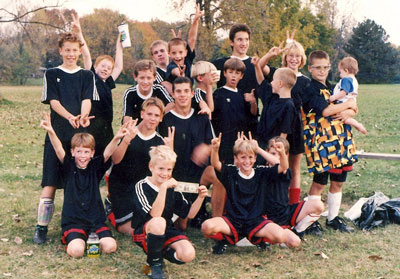 Attending Zion Lutheran was a great experience for Ian, and it opened many doors. Little did any of us know however; the experience would be short, and he would spend less than a year there. . .