School's Out
In August, just before Ian transferred schools, we embarked upon our first real family dream vacation; three days at Walt Disney World, followed by four days in the "Fabulous Florida Keys," to visit Marcia's brother Mark. Mark had moved to Key Largo in May of 1984, and although he occasionally returned home to Indiana for a visit, this would be the first time anyone from back home was able to visit him on his home turf. Accompanying the us on the trip was Marcia's little sister, Kelli.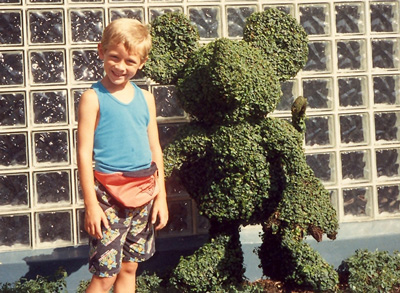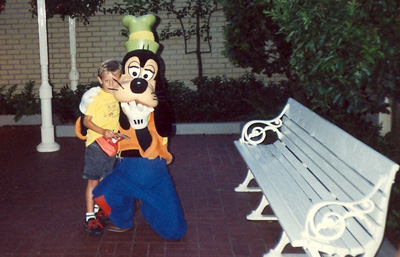 Since neither Marcia nor I had been to Disney World, I, being just a bit compulsive, wanted to make sure we made good use of every minute of time, and make certain we saw most of the attractions.
After multiple readings of Steve Birnbaum's Official Guide to Walt Disney World, for the best of Disney, and a round with Sehlinger's Unofficial Guide to Walt Disney World for a more critical look, I planned the entire vacation down to times and specific interstate exits for fuel, food, and bathroom breaks—combined of course, to expedite travel. Equally important was the schedule for each Disney Park, meticulously planning which day to attend which park, as well as the order and time of day for each attraction.
First, we drove down to Orlando, and picked up Mark at Orlando International Airport, after he flew up from the Keys. The next day, we were off to Disney World, for three busy days. All my planning paid off—albeit a bit like Clark Griswold in "Vacation."
The first day, and every day, we awoke early, showered, had breakfast, and hurried off to the parking lot entrance, patiently waiting for the attendant to open the gate and let us in. Once we parked, we ran to the park entrance, only to wait another thirty minutes for the park to open. The downside—we did a lot of hurry up and wait. The upside—in the course of three very long days, we hit virtually every attraction at the Magic Kingdom, EPCOT, and MGM Studios; and on two of those days, Ian was the first person into the park. No awards, but lots of bragging rights, and most important, Ian road virtually every ride in the parks, without reservation or fear.
In fact, I can't remember Ian ever being afraid—or at least showing fear. His first trip to a theme park was Kings Island, just outside Cincinnati, when he was three. Even then, he rode everything—at least those rides they'd let him on, since he was too short for several. He even rode the wooden roller coaster "The Racer," backwards with me—with his broken arm. Smart parents, right? Well in our defense, the doctor did say, "Let his pain limit his activity." He did scream a lot, but it appeared to be from excitement . . .
Boats, Beaches, Bars & Ballads
Before we knew it, our time at Disney World was over, and it was time to drive the five or so hours to the Keys. Based upon our earlier trip to Florida, this was one trip we were excited to make; nevertheless, like so many other first time visitors to the Keys, Marcia and I looked at one another and said, "Where's the beach?" Before long, however, we would begin to understand the difference between the Keys and the rest of the state, and come to appreciate the uniqueness of this once isolated island chain. Ian on the other hand, had never seen a beach, so he was thrilled from the get-go.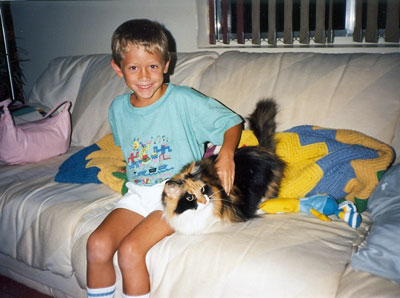 Once we arrived at Mark's, Ian was reunited with Sasha. Ian didn't remember her of course—although he thought he did. He was delighted to see her; Sasha on the other hand, must have remembered their earlier acquaintance, and was a bit reluctant to accept him.
Over the course of the next few days, Mark took us to a handful of his favorite restaurants; all on the water. We sat there, admiring the view, all the while enjoying the food, piña coladas, and island music—mostly, the piña coladas. For his part, Ian enjoyed virgin piña coladas and quickly figured out that unlike Indiana—during the day at least—he could sit at the bar, which he was all too happy to do. Once again, he was the big man on campus.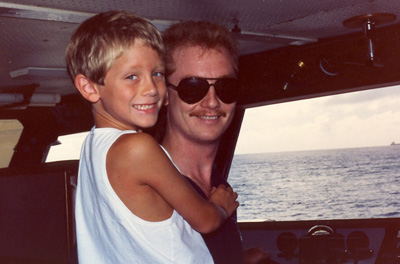 Our "tourist" adventure began at John Pennekamp Coral Reef State Park, where Mark had once worked. We checked out the "beach," toured the visitor center and aquarium, and Ian learned about the native marine life, preparing him for his journey aboard the glass bottom boat Discovery, and his snorkeling adventure a few days later.
Mark introduced us to his many friends, as well as past and present employers, including Fred Pimental, and his wife, Mary. Mark was very close to them, and they quickly embraced us as family. We first met Fred at the Townsite Supermarket in Islamorada, where he was co-owner. Fred gave Ian a US Coast Guard Station Islamorada cap, and a small, carved wooden shark. Ian treasured these gifts, and we still have them today. Later, we had dinner with Fred and Mary at the Quay, and before long, we built a lasting relationship that would endure long after we moved to the Keys.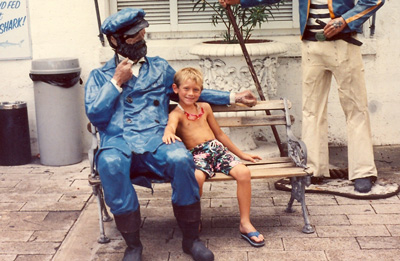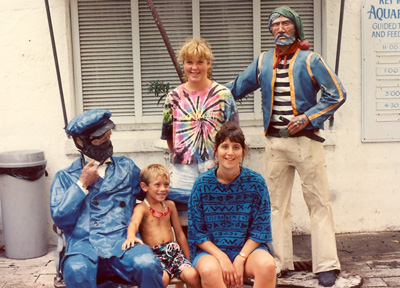 You can't visit the Keys without going to Key West, and we were all willing participants in the journey to the mecca for Parrot Heads.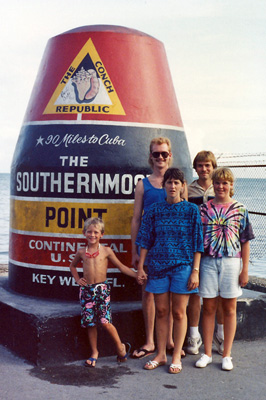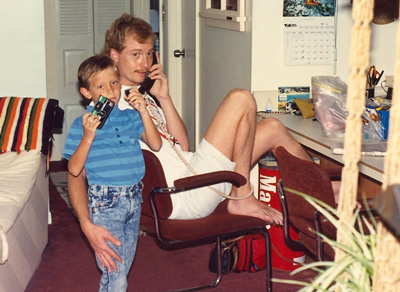 When we returned to Key Largo, we had the chance to go out on the water. Fred and Mary lived in a house on Florida Bay, and Fred offered up the use of his boat, a 24 ft Seacraft. We took him up on his offer, and Mark took us out on the water—lunch by boat, and later snorkeling in Blackwater Sound, Barnes Sound, and Card Sound.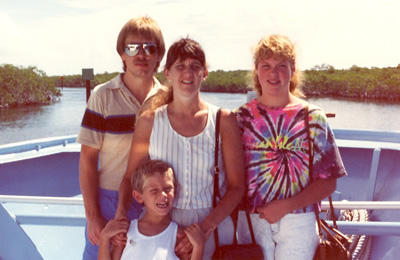 Ian loved the water, especially the swimming part. He even loved his first exposure to snorkeling; he did not however, appreciate the taste of salt water, and it was nearly impossible to get him to close his mouth, which became fairly comical, as he struggled to raise his head high above the water, dog paddling and spitting all the while.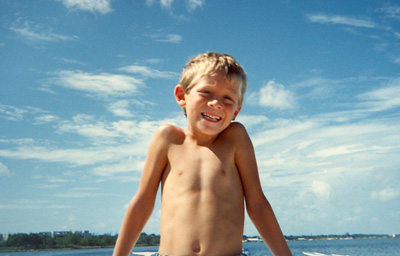 For the most part the weather cooperated and was beautiful; however, on the way back, an unexpected cloud burst turned the balmy air to cold, and we were at once cold, wet, and ready for shore. Just as quickly, the weather turned back to clear skies, and all was well with the world.