Coincidentally, Wayne, a friend of mine at work, was looking to buy a new truck. He had a small Ford Ranger, was looking for a full-sized truck, and once he found one, his truck would be for sale. I mentioned this to Ian. He was interested, and so we had Wayne stop by the house one day on his way home from work so Ian could have a look-see. Before Wayne arrived, I told Ian that if he liked and wanted the truck, I'd let him negotiate his own deal.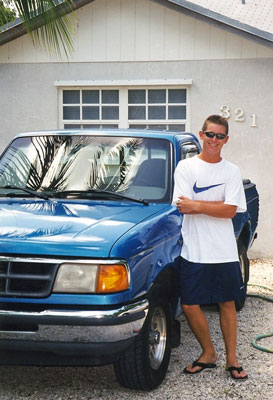 Ian looked in, over, and under the truck, and took it for a test drive. He loved it; both as it was, and for what he saw that it could be, as his taste in vehicles was a little less conservative than Wayne's, and he already had visions of how he could trick out his new ride. Fortunately for Ian, Wayne's asking price was fair and within his budget, so they quickly came to terms—Wayne told Ian what he wanted for the truck, and Ian said, "I'll take it!" So much for negotiation. I agreed the "negotiated" price was more than reasonable, so told Ian I'd help him to arrange financing.
Ian's nest egg amounted to a nice down payment, and it was my intention to finance the loan in his name; with me as the cosigner. I wanted to help him buy the truck with his own money, and teach him about responsible credit and financing. Unfortunately, that wasn't going to happen—at least in Florida. So, I financed the truck in my name, titled in my name, with the expectation that he would make the payments, and when he turned eighteen, I'd turn the title over to him.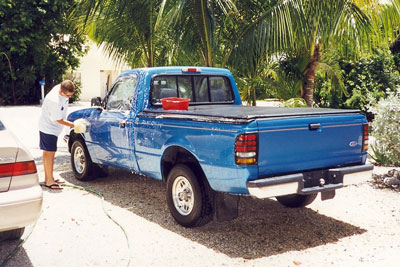 This agreement worked for Ian, Wayne, and me, so on July 1, 1999, Ian became the proud owner of a 1994 blue Ford Ranger. It would still be a few months before he could drive it solo, but that didn't slow him down. He detailed every inch of that little truck and then immediately began shopping for a hard cover for the bed, new wheels, and a stereo system with monster speakers and subwoofer boxes that should have carried a U.S. Surgeon General's warning label.
September 18, 1999
Somewhat spontaneously, following the recommendation of a friend, Marcia decided to surprise Ian on his sixteenth birthday with a swim with the dolphins. I was at work, on-shift, so she was flying solo. She told Ian to be ready to leave the house at a particular time, and when that time arrived, she drove him toward what she could only imagine would be a life changing experience for him.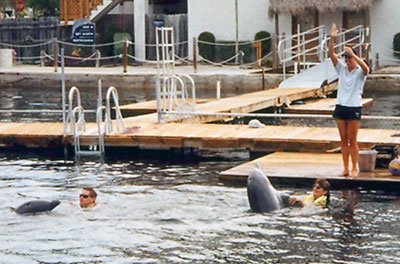 We can't even imagine where he thought they were going, but when she pulled into Dolphins Plus, Ian said "You've got to be kidding me . . ," dampening her enthusiasm, and nearly breaking her heart. Ian was, after all, a teenager, and at this point in his life he was way more concerned with looking cool, than being cool. But, being the good sport that he was, and not wanting to totally crush his mother, he decided to go along with it.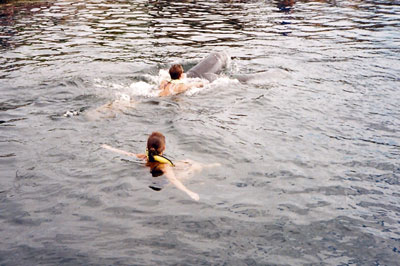 He even "pretended" to have a good time; at least until he got in the water, gave into the experience, and realized how much fun he was really having. Finally, when it was over, he hugged his mother and was forced to confess, "That was amazing. That was the best birthday present ever."
Ian's experience opened our eyes to the miracle and magic of dolphin encounters, which is why, when we lost him, we chose to honor his life and to help to keep his memory alive with our donations to Island Dolphin Care, and to help to spread the good word about their wonderful facility and the therapy that they provide to so many.
Island Dolphin Care is a wonderful not-for-profit organization that was founded to help children with special needs and their families who are dealing with developmental and/or physical disabilities, emotional challenges, and critical, chronic or terminal illness. In 2009 they expanded their programs to include therapy for wounded veterans and their families, to help them find joy and discover new abilities.
Marcia and I also celebrate Ian's life by swimming with the dolphins ourselves every year on his birthday. This is a tradition which we began at the urging of Deena Hoagland, Island Dolphin Care's Executive Director, on what would have been Ian's twenty-fifth birthday—the first after his passing.
Late September 1999
Navigating U.S. 1 in the Keys can be an adventure, even for an experienced driver. Driving here is seasonable, and you never know quite what to expect. Sometimes we have lots of tourists; sometimes lots of snowbirds; sometimes both—this in addition to weekenders and day trippers. Often our "small town" main street is clogged with a seemingly never-ending stream of rental cars, RVs, and trucks pulling boats, all headed to who knows where. In any case, lots of traffic, lots of lost drivers, and lots of surprises!
Ian handled the quirky traffic well, quickly learning to anticipate the sudden lane changes of other drivers—all the while handicapped by the two states of South Florida turn signals; always on, and never used. Within a few months he graduated to driving Mom's Camry, and not long after he pretty much became our resident chauffeur, insisting upon driving us everywhere—whether we liked it or not
Practice makes perfect, and in no time, Ian was driving like a pro. Before long, a year had passed, and it was time for him to demonstrate his competency to an examiner from the State Department of Motor Vehicles; but first, I had to make sure that he was ready.
His final test was to prove to me that he had truly mastered the standard transmission; coming to a complete stop at the top of a hill in my truck—simulating a stop at an imaginary red light—then taking off from the stopped position without rolling back into the imaginary car behind him. Since our streets on Key Largo are all perfectly flat, the highest elevation I could think of was the entrance to the elevated Key Largo Ramada Inn. This was a good choice, and Ian performed flawlessly.
Testing the Waters
Between working evenings and weekends at Sundowners and school, Ian stayed busy during the fall of his sophomore year. Academically, he managed to get by, putting as little effort into schoolwork as he possibly could. From even the earliest of grades, Ian hated to be confined to a classroom, and it was always a struggle to keep him as interested in the subject as he was in being the class clown. By the time he reached high school, he was a little more attentive, but even then, he preferred to do as little as humanly possible.
Ian was notorious for making near failing grades until the end of the semester, then he'd cram the night before the big test, ace it the next day, and manage to end the semester with a "C." If only we could have persuaded him to put that kind of effort into his everyday school work. He would have graduated near the top of his class. But alas, it was not meant to be.
Ian's interest in school was outside the classroom. He particularly loved Mr. Makepeace's marine science classes, which often gave him the opportunity to scuba dive. Mr. Makepeace is retired today, having spent over three decades teaching at his alma mater, Coral Shores, where he ran the marine science program. In addition to teaching the students about the marine environment, Mr. Makepeace kept the students engaged in their studies as they worked on restoration of coral reefs and seagrass beds, water quality testing, fish counts and other environmental projects. Ian thought the world of Mr. Makepeace, and his classes helped hold Ian's attention for at least a portion of the school day.
The Boys of Fall
One of Ian's disappointments the previous year, was not being able to play football. After all, the opportunity to play football was at least part of the reason for changing schools in the first place.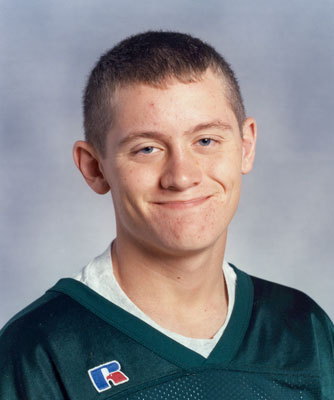 Unfortunately for him, as an incoming freshman, Ian came to Coral Shores and the Monroe County School District with lots of experience playing soccer, but he had never played team football. This put him at a disadvantage competing to play with his more experienced peers, and so he found himself supporting his future teammates from the sideline. Now that he was a sophomore, there was room for him on the JV team, and he was ready to play.
Ian loved football, and his first season at play gave him the chance to play both the offensive and defense line, as tight end and cornerback.
Although he hated this picture, Ian was very proud to wear his 'Canes jersey, and simply putting it on for the first time was a seminal moment in his life.
He hated this picture because when the photographer took it, he kept asking Ian to smile. When Ian didn't want to get his picture taken, you couldn't get him to smile. When he did, he smiled naturally and you always saw his teeth. This smile is an annoyed compromise. This is a proof, we couldn't even get him to bring the order form for the actual pictures home.
Go 'Canes!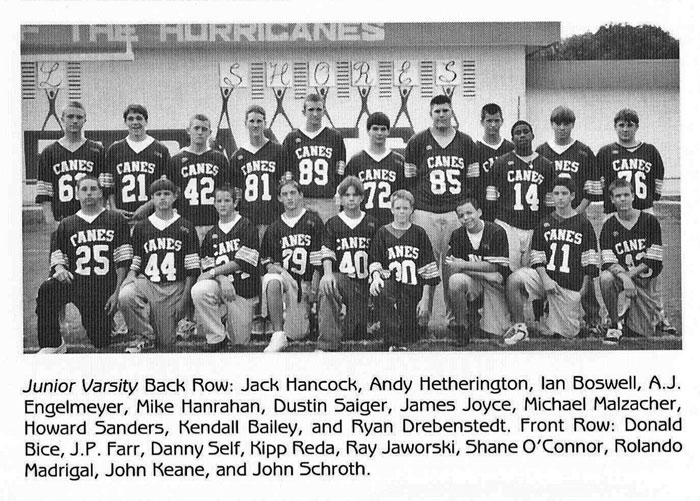 To be honest, until the Colts came to Indianapolis, I was never into football. I didn't like any sport that you had to play or watch while you were freezing. The Hoosier Dome changed all that. And then, there we were, all those years later, watching Ian play football in the Keys balmy fall air.
Had we still lived in Indiana, I would've been wrapped in a parka shivering. Instead, I was in short sleeves, basking in the twilight of the early evening sky. Even so, I guess Marcia and I still hadn't fully adjusted to the change in latitude, and I remember how surreal it was, pregame, listening to the call of the wild parrots behind us, and during the game, watching the terns and gulls flee from the far end zone as the boys marched down the field.
Once football season was over, the rest of Ian's sophomore year was fairly uneventful, up until prom night. Marcia and I were friends with Robbie and Doyle Thomas. Marcia and Robbie worked together, and the four of us spent quite a bit of time together.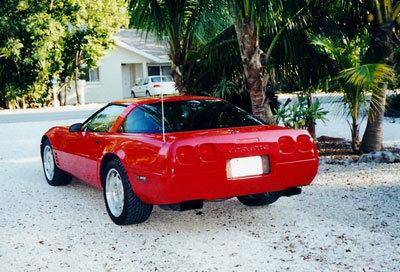 Robbie had this gorgeous late model red Corvette, and well before he had his driver's license, Ian was in love with this car. He used to joke with Robbie, "Let me drive your car."
She told him after he got his license, she'd let him borrow the car on prom night. She said, "How cool will you look pulling up in a Vette?" We thought Robbie was crazy when she made the offer, and even crazier come prom night. But good to her word, when sixteen-year-old Ian and his date drove up to the prom, this was their ride for the night. . .