Ian's Journey Home
After a couple of days at the hospital, we were homeward bound—to Greencastle. It was good to be home; to family, friends, and the new nursery complete with Jenny Lind furniture and the entire set of Winnie the Pooh and Pals stuffed animals that I had waiting for Ian's arrival.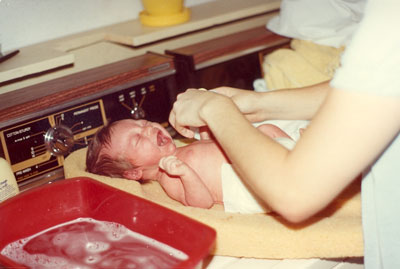 Ian always loved the water—well, maybe not at first—but by the time he was a year old, he was a human fish. Kit, our next door neighbor, was an American Red Cross swimming instructor who taught infant swim classes. When Ian was about eight months old, and the pool at our local park began to warm up, she met us poolside for a little coaching. In almost no time at all, Ian was swimming back and forth between Marcia and me; first just a few feet, then before long, ten feet or so.
Later, when Ian was in day care, he regularly attended swim lessons during the summer. He loved to swim, and he loved to dive. By the time he was five, he was diving head-first off the three meter board.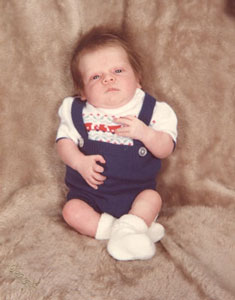 This is one of the photographs from Ian's first studio sitting; he was three weeks old. From the get-go, it was nearly impossible to get him to stage a smile, as it was later in school pictures—leading to a few retakes. He had a beautiful, captivating smile, but you only saw it when it was given freely, in spontaneous situations.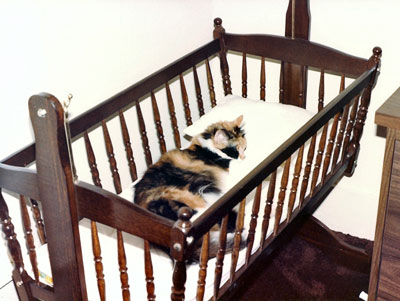 For some, the arrival of a new baby is an occasion of excitement and joy; for others . . . not so much. Parents may handle the changes fine, but siblings don't always adjust well; even if they are furry and four-legged—especially if they are used to getting more than their fair share of attention. Marcia and I failed to take this into account in our excitement leading up to the homecoming. What we quickly learned, is that all of the things that are recommended to help human sibling adjustment don't seem to work so well for kitty cats.
Sasha was a beloved member of our family, adopted a few years before Ian came along. She craved attention, and in hindsight, did not adjust at all well to the introduction of the new baby. Marcia and I, of course, were so preoccupied with Ian that we were oblivious.
Baby Days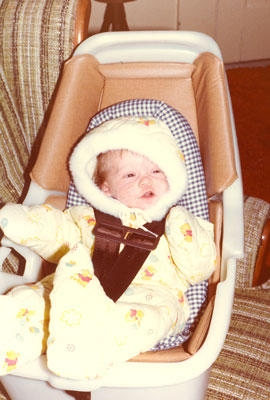 The first few weeks as a new family were both exciting and very busy, as Marcia and I adjusted to the unpredictable schedule of a newborn. Unfortunately, soon reality hit—six weeks had ended—and it was time for Marcia to go back to work (a financially necessity) at Putnam County Hospital.
Not willing to leave Ian with just anyone, we had done our homework, and on the recommendation of a close friend, entrusted his care to a wonderful lady named Louise Elmore. Louise was married to an equally wonderful man, Bob, who was the Greencastle Fire Chief. They were both wonderful parents to their own two children, and from the beginning treated Ian like he was a member of their own family. Every morning we'd bundle him up, and then he was off to spend the day with Louise.
Bob would come home for lunch, and he loved holding Ian on his lap, sneaking him bites of strawberries and ice cream, and slipping him sips of his iced tea.