Growing Pains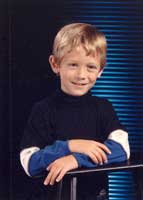 First Grade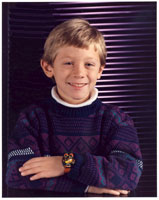 Second Grade
About the time Ian began Kindergarten at Nanee Learning Center, we purchased a new condominium just a few miles from our apartment on the northwest side of Indianapolis. Under construction, right across the street, was a brand spanking new school, Deer Run Elementary. Ian was excited about going to school there; unfortunately it would not be completed for a couple of years.
So, his first exposure to public school was Central Elementary, where he attended first and second grade. It was an older school, but it offered before and after school care, and it was just a few miles away from our house, more or less on our way to work.
Good location or not, to be honest, school was never one of Ian's strong points. He didn't have the patience to sit still, and to say that he was a challenge to his teachers would be an understatement. He did have a few teachers however, that "got his number." Mrs. Thomas, in first grade was one. No shenanigans there.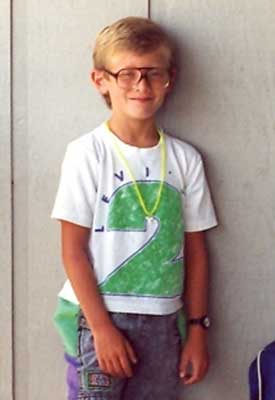 Mid-year, first grade, during a routine vision screening, Ian was found to have vision problems which required follow up. His pediatrician referred us to a competent optometrist who specialized in pediatric patients.
Not surprisingly, Ian was diagnosed with myopia, and at the ripe old age of six was forced to wear glasses, which he absolutely hated. He could blame me for the genetics; in any case, he could see now—but no matter,
"Chick magnets don't wear glasses."
The adjustment to glasses was difficult for Ian, and it took a while for him to come to terms with actually needing them. Notice that his glasses are conspicuously absent in his second grade picture above.
By the time Ian began third grade, Deer Run was completed, and he was able to attend school there. Unfortunately, this turn of good luck didn't last long. Within a couple of weeks of school starting, Ian came home guarding and complaining of pain in his right arm, explaining that "a fat kid jumped on it."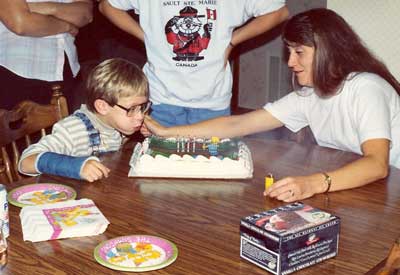 I decided that he was faking it; so the next morning, I offered him $5.00 to pick up a gallon of milk with his "bad" arm, knowing the money would win over, and I could prove that he was feigning his injury. Well, it did not. He tried to pick up the milk, and his arm just fell flaccid.
Having established that I was an ass, and that he indeed had a fracture, we took him to see the doctor. X-rays confirmed a greenstick fracture, and I had crow to eat. Ian "celebrated" his eighth birthday with Bart Simpson, and a new cast.
The Wedding Singer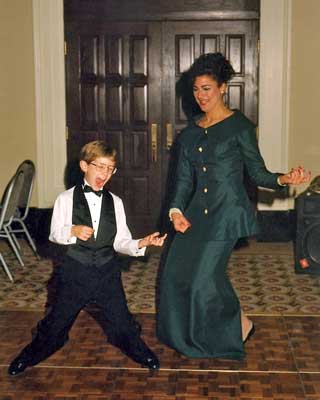 A year later, a change of frames, and Ian had his confidence back. He was back on his game, and once again a "chick magnet!"
—And, he could play a mean air guitar!
In November 1992, Marcia, Ian, and I were privileged to attend Marcia's cousin Angela's wedding, which was truly a magnificent event. Actually, Marcia and Ian were members of the wedding party; Marcia a bridesmaid, and Ian the ring bearer. The bride was absolutely stunning; Tony, the handsome groom, always a consummate gentlemen. Together they were a beautiful couple.
After the ceremony was a formal dinner and reception, complete with a live band, and everyone was having a great time. About half way through the reception, Ian sauntered over to me and said, "Dad, I'm going to sing with the band," to which I responded, "What?" He told me that when he went to the bathroom, he talked to the "singer," and "He said I could sing with them." Unconvinced, I said, "That's nice," and left it at that, basically blowing him off.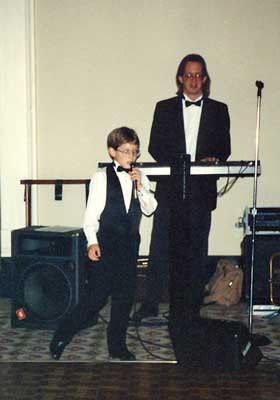 When the band returned after break, they played a few songs, and then the singer said, "We'd like to invite a guest up to sing with us." Oblivious, we're all looking around—the thought never occurred to me that it could be . . .
Indeed, it was Ian. He walked up and took the microphone; the band began to play, and without hesitation, Ian began to sing:
"Look into my eyes - you will see
What you mean to me
Search your heart - search your soul
And when you find me there you'll search no more
Don't tell me it's not worth tryin' for
You can't tell me it's not worth dyin' for
You know it's true
Everything I do I do it for you"
Ian was a huge fan of the movie "Robin Hood," and also a huge fan of Bryan Adams. He finished the first verse and chorus, and apparently the vocalist thought that Ian would readily readily surrender the microphone—he did not. When he reached for it, Ian turned away, and began to hammer out the second verse. Marcia and I were amazed. First of all, this was no small affair, and everyone was watching. Secondly, we knew that Ian had an interest in acting, but didn't have a clue that he was that comfortable singing in front of a crowd. He was amazing, and the moment was priceless.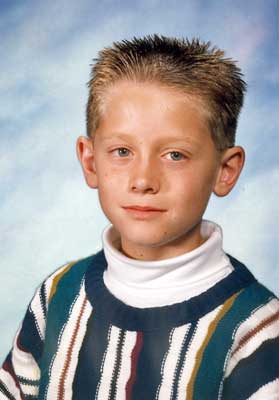 Soon after Ian came to terms with needing glasses, he was convinced that he would soon trade up to contacts. Since I began wearing glasses at about the same age, and didn't have my first contacts until I was twenty-one, I was skeptical at best.
Nevertheless, just after his ninth birthday, Ian was able to convince his optometrist that he was ready. Marcia and I remained unconvinced, but went along for the ride. Dr. Greg referred us to a pediatric ophthalmologist, who spoke only briefly to me and Marcia, and then took Ian off for a private examination and consultation. While they were gone, Marcia and I contemplated how to best console Ian when he received the "bad" news.
Much to our chagrin, before long, Dr. David came out with Ian, and confidently explained that Ian was ready for contacts! He was right. Within a few days Ian was in contacts, and never once had an infection, or even lost a lens. It meant so much for him to not have to wear glasses; he stepped up to the plate, and took every precaution—way above most adults. We were very proud of him!
Sports Center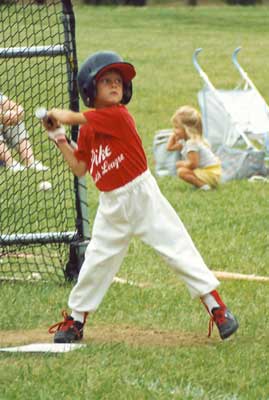 The love of sports came early for Ian, and continued throughout his life. By the time he was an adult, he was a virtual encyclopedia of football and basketball trivia, and his idea of a dream home included a sports bar.
Where this love came from, I cannot say, although I have a pretty good idea. It certainly wasn't from the Boswells—at least not from me or my father. My father had no interest in sports, and mine waned after sixth grade basketball. It was most likely from his mother's side; with a grandfather, great grandfather, and two uncles whose diverse interests covered everything from basketball to NASCAR. Marcia also had an interest, having played softball and volleyball during high school.
For Ian, the transition from plastic superhero action figures to real life sports protagonists began with a personal appreciation for the game. This originated early in the summer of 1990, when Ian was six years old, and he began playing baseball in the Pike Township Youth League.
He was already at a disadvantage, as he wrestled with vision issues, and struggled to "find" the ball. Nevertheless, he worked hard and had a great time, and so did Mom and Dad. Marcia and I loved every minute of watching him play; although when he first started, the "action" was comical, to say the least.
When he and his teammates were in the outfield, they were bored and easily distracted. Between pitches, they would spin around in circles and swat at blades of grass, tossing the clippings high into the air. When they were up to bat, they would run to the dugout, throwing their gloves into a big pile, only to have to sort through them, one by one, when it was time to field.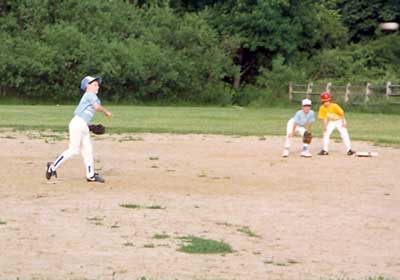 Contacts and good vision may have improved his game; or most likely, practice, experience, and confidence. In any case, after a couple of years of play, Ian made pitcher, which really stepped up his game, as well as our anxiety level.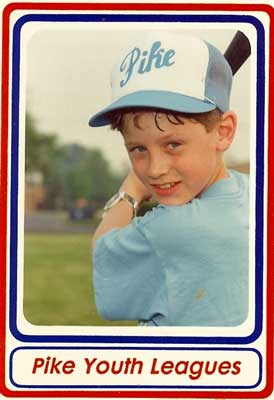 Suddenly there was a lot more pressure on him to perform, and with every pitch we cringed, worried that he would miss the strike zone and unintentionally hit the batter, inciting sudden rage in the already apprehensive rival parents, and potentially inflicting serious injury to his unsuspecting challenger.
For the most part, Ian was on the mark, and pitched well beyond our expectations. As always, Marcia and I were very proud of him and his performance, which was a fitting end to his dedication to the Pike Youth League, and also closure on this early chapter of our lives.