Spring 1998
"What's the matter?" It was the beginning of what should have been a quiet evening. It was also the end of the school year, and Ian should have been ecstatic. Instead, he was sulking.
"All my friends are going to Coral Shores next year."
"Ian, all your friends are not going to Coral Shores next year."
"They are all going to Coral Shores. Besides, I wanna play football."
This is how we began the end of eighth grade, with an unexpected crisis. We could only assume that Ian's assessment of the situation was a gross exaggeration of the true state of affairs—skewed of course, to get his way. Our own subsequent assessment quickly proved those assumptions wrong.
Within a few days Marcia made several phone calls to parents that we had become close to, and indeed, most of Ian's closest friends were going to transfer to Coral Shores at the start of the next school year—their freshman year. A handful of the boys did want to play football, and a number of his friends needed an alternative curriculum to meet college admissions prerequisites for their chosen field of study. Regardless, we were now faced with a conundrum.
Resolving this situation was no simple matter. To begin with, the original decision to transfer Ian into a parochial school was not an easy one. We wanted him to have a Christian education, but this was not our primary motivation for change. We were primarily concerned that he receive an education which focused upon what we considered to be the "fundamentals," in a well-structured and disciplined learning environment—one which placed a premium on personal responsibility with regard to student conduct and behavior. Any change now would seem to be counterproductive; reversing the progress that he (we) had made these past few years.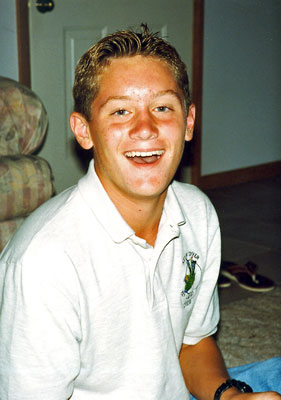 Then there was the matter of football. Having spent the majority of her career working for a neurosurgeon, and later an orthopedic surgeon—both of whom specialized in sports medicine—Marcia had made up her mind about the hazards of football years before. Adding to this, our backgrounds in EMS, and Ian's history of fractures and other injuries made football seem like a recipe for certain disaster.
Simply saying no; however, was not a palpable solution. Whenever we were together as a family, Ian pressed hard to make his case. His pleading was generally met with, "Maybe, we'll think about it." He also lobbied hard, one-on-one, any time he was alone with me or Marcia, and was met with pretty much the same enthusiastic response. When he was not within earshot, Marcia and I discussed the subject ad nauseam; carefully weighing the pros, cons, and "what ifs." Finally, after a great deal of prayerful consideration, Coral Shores and the prospect of playing football won out—even though it would be a year or so before Ian was actually eligible to play.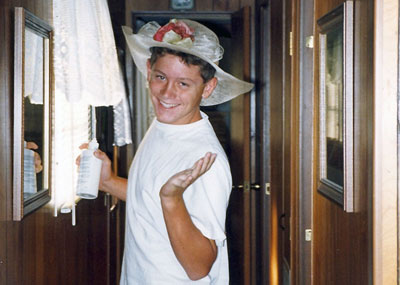 This "flattering" photo was taken on one of our earlier travels back to Indiana, most likely in the summer of 1998. We were at Marcia's mother's house, where Ian came across this hat. Doesn't he look adorable? I'm not sure that it's his color, but he would do 'most anything for a laugh.
Not long after, we were back home and Ian and I were working on Keys Diver, with Todd, the owner, running the boat. In the morning we ran our usual trip, but in the afternoon we ran a private charter, with several members of Todd's family on board, including two of Todd's nieces. Ian was particularly enamored with the eldest, and did his best to capture her attention. At some point in the afternoon the girls gathered his short hair on one side or the other into a small, tight lock, held securely with a ponytail tie. One thing led to another, and before long he disappeared below decks with the girls; emerging not long after with multiple ponytail ties in his hair, and he was wearing one of their cover-ups.
I'm sure the look on everyone's faces on the upper deck was priceless. For a moment, we all set there slack-jawed, until almost in unison we yelled, "Ian!", to which he immediately responded, "I'm not 'Ian,' . . . I'm 'Iana'."
September 1998 – Hurricane Georges
During the summer of 1998, Florida experienced a series of devastating wildfires that required mass evacuations of Central Florida and fire suppression assistance from throughout Florida and 44 other states. In the aftermath of these fires, Walt Disney World chose to show appreciation to all Florida firefighters and EMS responders by offering them and their families free admission to all Walt Disney World theme parks.
Being the huge Disney fans that we are, we couldn't pass up this opportunity (excuse) to go see Mickey, so we chose the last week of September, requested our tickets, and made reservations at one of our favorite on property Disney hotels. Now we were all set with nothing to do but anxiously await our unexpected vacation. Soon, just a few, short weeks later, we were all set to head to Orlando. We couldn't wait to ride all our old favorites, but we were especially excited to visit the newly opened Animal Kingdom . . . that is, until Georges ("Zhorzh") derailed our (my) plans.
Georges began as a tropical wave that left the coast of Africa on September 13th. It was classified as Tropical Depression Seven two days later; strengthened, and became Tropical Storm Georges the following day. By the end of the day, September 17th, Georges reached hurricane strength, and headed toward the Caribbean.
Within a few days Georges intensified into a very dangerous Category 4 storm, but fortunately began to weaken just prior to making its first landfall, on the Island of Antigua. Georges continued to weaken to Category 1 as it made its way westward across the Caribbean; however, by September 25th, it restrengthened to Category 2, just prior to slamming Key West and the Lower Keys.
The Florida Keys were placed under a Hurricane Watch at 5:00 a.m., September 23rd; but long before this, it was apparent that Georges was likely to pay us a visit. My position with the County, of course, classified me as essential personnel, which meant that I would not be visiting the Animal Kingdom—or any Disney park—anytime soon.
Before I could begin to focus on my job, it was first important for me to make sure that Marcia, Ian, Mark, and Mercedes were out of the Keys and safe, which meant Central Florida; Disney vacation notwithstanding. So, we shuttered our house and Mark's, then packed. Marcia, Ian and Mark packed for the parks; I packed for work. After an exchange of hugs and a tearful goodbye, they headed north, and I waited . . . and waited . . . and waited. Once Marcia called to let me know that they had arrived safely, I could get down to business without worrying about them being on the road. It seemed like forever, but several hours later, I received that call. Marcia said they had checked into their hotel, and given the circumstances with the storm, Disney was going to honor the free pass, even though I wasn't with them.
As Georges traversed the Caribbean, it was responsible for the deaths of over 600 people and billions of dollars in property damage. The Keys fared much better, as the storm was considerably weakened by the time the eye passed over Key West, midday on September 25th. For the most part, the Upper Keys were spared; however, the Lower and Middle Keys took a real beating, with residents of the Lower Keys sustaining the loss of over 170 homes, and damage to over 1,500 others.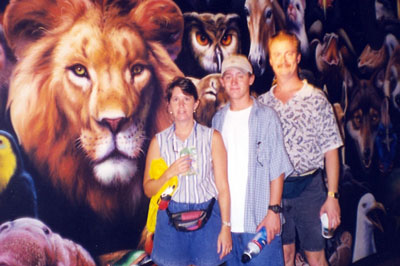 Georges was my first hurricane to work, and remains one of the busiest, considering the extent of our pre-storm preparations, and seemingly never-ending recovery. I worked the Emergency Operations Center throughout the storm, and fortunately we never lost cellular communications.
Occasionally I would have a break, and I'd call and check on the gang. They always seemed happy to hear from me, telling me how sad they were that I couldn't be with them, and how it ruined the whole trip.
They said they were doing their best to put on a happy face, but they just couldn't have a good time without me. Best attempts aside, you can see the look of despair in their eyes.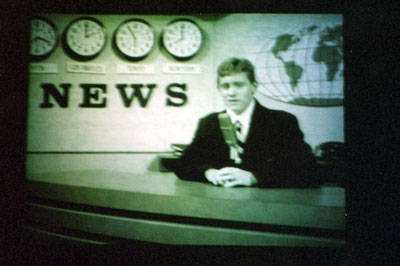 They did manage to keep busy, and Ian even managed to land a gig anchoring the CBS Evening News!
October 1998
Like most parents, we wanted the best for Ian. This of course, included work and school, although we never really pushed him in any particular direction. My guidance was simple; "Get a good education. That way, you can choose the job; otherwise the job will choose you." As far as I was concerned, as long as he was happy, whatever he decided was fine—within reason. In fact, when Ian was little I often told him, "There's dignity in all work—at least if it's honest." I later added a second caveat, after we saw a man in front of a car lot dressed as the Statue of Liberty, waiving a sign to passing motorists hawking "incentives and rebates. . . " In any case, work for Ian was never a problem; he liked to work and enjoyed having his own spending money, and as soon as he was old enough to work, he was never without a job, and along the way he did just about everything.
School was a very different story. Ian was about as interested in school as he was in watching a weeklong "Nova" marathon on PBS. Pretty much the entire time he was in school, his M.O. was the same. Do as little as humanly possible until the last couple of weeks of the semester, and then bust his tail and skate by with a passing grade. This worked for him repeatedly, but needless to say, I wasn't too happy with this approach. At this point in my life I firmly believed that if you were going to do something—anything—you gave it one hundred percent.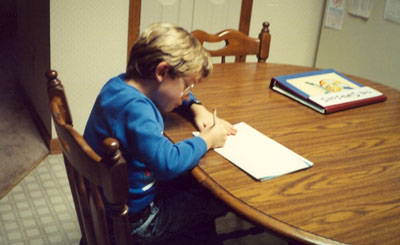 This was especially true with education; although truth be known—which I never bothered to share with Ian—as I reflect upon my own experience with public education, the apple didn't fall far from the tree.
When Ian was in elementary school, Marcia and I spent untold hours working with him on schoolwork. Every evening, homework was the priority and had to be completed before TV, video games, or other activities.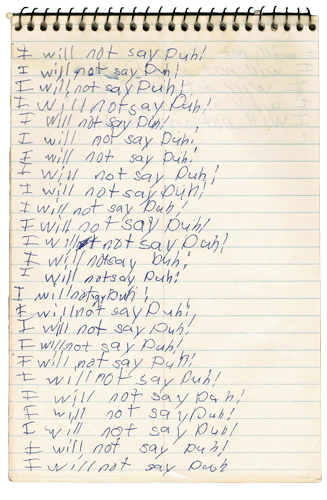 Marcia and I both took turns helping him, with varying degrees of success. Without a doubt she was the more patient. I was far less patient and more quick-tempered when it came to dealing with nonsense, which usually occurred as result of Ian's boredom with the subject matter, or when he just wasn't in the mood. Together, Ian and I made great study partners; "Indifference," and "Impatience."
Throughout elementary school, one of our most successful study techniques was the use of repetition. Ian would have a spelling test on Fridays, so on Monday, Tuesday, and Wednesday evenings, we would have him write out each word five times. On Thursday we would give him a spelling test, and then if he missed a word, we'd have him write it out five times. This proved to be very effective.
We later learned, as our teaching matured, that repetition was well-suited for teaching a variety of other lessons.
When he got a little older, there were times when Ian really did want to learn. Scuba diving was one such time, learning to drive was another; I was blessed to be there for both.
For diving, I was there as a watchful observer and occasional dive buddy. For driving, I was his instructor. As impatient as I might have been for math and science, when he was behind the wheel, I had the patience of Job. Teaching Ian to drive remains one of my life's fondest memories and experiences, and when he obtained his license, it was also one of my proudest.
When Ian approached fifteen, he began to talk about learning to drive. Driver's Ed was out of the question in the Keys, so that left Mom or Dad, and I drew the short straw. We picked up a Florida Driver's Handbook from the local DMV, and I told Ian to start studying. Before the State would issue a learner's license, he had to complete a required Traffic Law and Substance Abuse Education course, and take a written test on Road Rules and Road Signs. He was extremely motivated, and in short order had his license.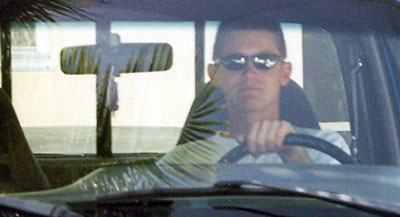 Where to teach Ian the hands-on portion was not a problem. We were fortunate to live just off U.S. 1 in a quiet, residential neighborhood with long, straight and narrow streets, crisscrossed regularly with intersecting streets, lots of stop signs, and very little traffic."Lots of stop signs, and very little traffic" were important, because our driver's ed vehicle was my 1992, forest green short bed Toyota pickup with a 5-speed manual transmission. Lots of stops and starts on a flat, level surface . . . good for the student; all the better for the clutch.
We spent many an evening after school in that little truck, cautiously driving up and down our familiar neighborhood streets. Ian was a good student, quickly mastered the standard transmission, and soon had the competence and confidence necessary to move up to the real challenge . . . the Overseas Highway.
November 1998 – Tropical Storm Mitch
"Where are you; and why aren't you home?"
"I'm at Mark's. I came here for dinner."
"And where's Ian?"
"He's at youth group."
It was about 5:40 in the evening, and I was beside myself; a mixture of anger and disbelief. As if on cue, Mitch was upon us, and I expected Marcia and Ian to be home, safe and sound in our steel reinforced concrete house. Instead, she was at her brother's house miles away, in a manufactured home—nice, but wood-framed—hardly a fortress. Normally I could have cared less about a tropical storm; this one however, was different. Mitch was a killer.
It was November 4th, and over the course of the previous week and a half, then, Category 5 Hurricane Mitch laid waste to large portions of Honduras, Guatemala, and Nicaragua, and was the deadliest Atlantic hurricane since the Great Hurricane of 1780; ultimately responsible for over 19,000 deaths, mostly from flooding and mudslides.
Fortunately for us, still reeling in the aftermath of Hurricane Georges, after making landfall over Central America, Mitch largely dissipated near the Guatemala-Honduras border. Only a small remnant remained which reorganized into a tropical storm once it crossed the Yucatan Peninsula and emerged into the Gulf of Mexico and headed toward Naples. Unfortunately for us, Mitch spawned at least seven confirmed tornadoes producing extensive damage in the upper Keys—mostly in, or a stone's throw away from, Mark's neighborhood.
I was at work and called Marcia just after the first tornado warning was issued by Monroe County Central Dispatch, followed by a confirmed touchdown near the Islamorada Hampton Inn. Within minutes of my learning of her unexpected dinner plans and pleading my case for more appropriate refuge, another, second tornado was on the ground—this time, right at Mark's front door! Within minutes, mobile homes, boats, trees, and power lines were decimated by the fury of what remained of Mitch, and over 350 homes and other structures were damaged or destroyed.
Not long before, Mark had left work in Islamorada, where the weather was rapidly deteriorating. As he drove north toward home, the sky was reasonably clear so he thought the storm would remain to the south. What he didn't realize, was that he was in front of the leading edge, and all hell was about to break loose!
Meanwhile, Marcia had just dropped off Ian at the Key Largo Baptist Church to attend youth group. Ian was good friends with A.J. Vetter, the pastor's son, and the Vetters lived next door to the church, so Ian asked Marcia to drop him off early so the boys could hang out prior to the arrival of the other kids, and the start of youth group.
Mark lived close by; so on her way home, Marcia decided to drop in unexpectedly for a quick visit. Mark had just arrived home, and was just preparing to put a steak on the grill. Always the perfect host, he suggested that she stay for dinner. By the time dinner was searing on the grill—dinner soon to be lost to the breath of the approaching vortex—I was on the phone chastising Marcia. Soon after, our connection was abruptly terminated—all seconds before the tornado hit.
Marcia watched as the thick, overcast, white sky quickly darkened to black; then as the winds began to pick up, that same black sky transformed to green, and finally orange. Now, Mitch had her attention.
"I'm gonna go get Ian. Gary told me that I need to get Ian and go home."
"The hell you are. You're staying right here," Mark reasoned.
"But I need to get Ian before it's too late."
"It is too late; it's here," Mark shouted.
"Oh my God, it is here. Listen!"
Having previously experienced a tornado in rural Indiana when they were children, Mark and Marcia immediately recognized the roar as the storm approached—the sound of sheer terror! A sound they described, like so many others, as the rush and rumbling of a close passing freight train.
Panicked, Marcia yelled to Mark, "Hurry, go shut off the grill! We'll blow up!"
Mark forced open the side door, and crawled out into the pelting, wind-driven rain. Turning off the gas, he abandoned the steak and quickly retreated to safety. Meanwhile, Marcia had called the church to check on Ian; of course there was no answer. The church was only about three-quarters of a mile away, but this was anything but comforting. No matter how close, they couldn't get to Ian, and worse yet, close meant that he too wasn't safe. Now she was more terrified than ever.
Back inside the house, Mark and Marcia grabbed Sasha, the now equally panicked feline, and raced into the bedroom. Tossing aside the bedding, they dropped to the floor just as the pressure dropped, the walls began to bellow, and the house began to tremble on its foundation. Pulling the mattress on top of them, they lay huddled in prayer; in fear for their lives.
After what seemed like a small eternity, the tornado moved on, leaving a trail of destruction, and bearing down on yet another unsuspecting neighborhood; time to assess the damage. First, the power was out, and the telephone didn't work. Beyond that, the weather outside was still too rough to venture out. Eventually the wind and rain began to abate, and Mark and Marcia were finally able to leave the fragile shelter of the house, only egress through the front door wasn't possible. It was blocked by fallen tree limbs.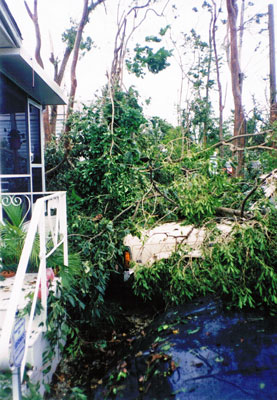 They were able to exit through the side door leading to the porch; opening the door to the reality of Mitch. First were his trees—split, splintered, and twisted, all strewn about like so many matchsticks. A Gumbo Limbo limb lay across the roof of the porch, and had made a small hole through the roof; others lay across his drive and the cars, one through the passenger side window of our Camry. The grill had blown ten feet from where it had been, and the refrigerator door was standing wide open. Too dark to tell now, but Mark would later learn that another, larger, Gumbo Limbo limb fell on and through his neighbor's roof, and through her bedroom ceiling, coming to rest on her bed—fortunately for her, she wasn't in at the time.
Unable to call Ian, the only way to make sure that he was safe was to go to the Baptist Church. Since both cars were trapped by fallen trees and tree limbs, and the street was similarly blocked for as far as the eye could see, that meant walking. Still in her work clothes—and shoes—Marcia commandeered a pair of Mark's more appropriate, but considerably larger footwear. These may have provided more protection from the ponding water, but each step also offered potential peril with her sloshing about in oversized shoes.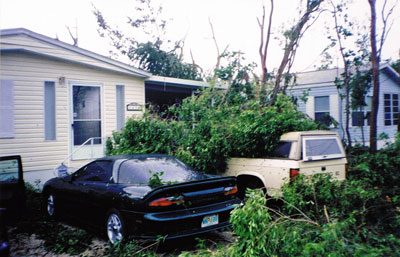 Flashlight in hand, cautiously working their way north toward Ian; Marcia and Mark somehow found their way through the darkened, panicked neighborhood; around, over, or through debris, fallen trees, and power lines. Surrounding them were the cries of anxious desperation, as Mark's less fortunate neighbors climbed out from what little was left of their homes.
Mother Nature's obstacle course made the trip of what should have been a few minutes take much longer than expected, and with each agonizing moment, the realization that the damage seemed worse with each step north. Finally they arrived at the church, and the moment of truth.
While Marcia and Mark had been experiencing their own crisis, back at the Vetter's, A.J.'s quick-thinking mom, Cindy, aware of the threat and imminent danger, gathered the boys and ushered them into an interior closet, where the three of them huddled in prayer until the tornado passed. When Marcia and Mark arrived, they found them safe and sound, as were the other children who had arrived for youth group and taken refuge in the sanctuary with the youth leaders.
After a short, joyous reunion, Marcia and Mark left Ian in the care of the Vetters, and then hitched a ride to check on our friends, Fred and Mary, who lived southwest of Mark in an adjoining neighborhood. They too were fine—although their house took a betting. Marcia and Mark then made their way back to the church where they and Ian spent the night safe and sound—but exhausted—sleeping on pews; awaiting the next day's beginning of the clean-up.
That night became a night of thanksgiving for all who had been touched by the storm, yet lived to tell of its fury; all, thankful to God for sparing their lives, and the lives of their families and loved ones.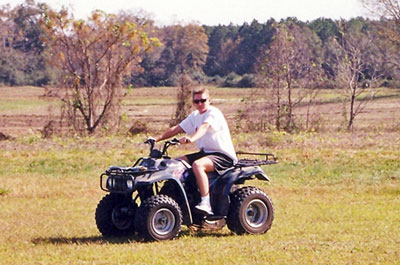 We survived Mitch, and the remainder of '98 was uneventful and routine, with the exception of what had become our now annual Thanksgiving trip to my sister Shirley's house in Florala, Alabama. This little mini-vacation provided a wonderful opportunity for me to get to see my parents, sisters and their families, and for Ian to get to bond with his grandparents, aunts, uncles, and cousins. After a tough season which included a change in schools and two major storms, it also offered a chance to get off the rock—escapism and a pleasing retreat from the drudgery of work and school. This year, it also provided a chance for the now-driving Ian to take a spin on Uncle Mike's four-wheeled all-terrain vehicle—He was all over that!