Key Largo Intermezzo
Within a few months of moving to the Keys, we had many visitors; the first were my parents. My mother called sometime in April, a couple of weeks after we moved, and said, "We're coming down to see you." I was surprised—I'm not sure they had ever been south of the Florida-Alabama line. I can't imagine my Dad's reaction—it's a 1,300 mile drive, and we'd been here all of a month.
In any case, I'm her baby, and God rest her soul, she was worried about us. She said she had to see for herself where we lived and that we had settled in. By early May they were down, saw where we lived (and that we had settled in), we introduced them to real seafood, and they got to see the Keys.
Dad isn't much of a boat guy, but Marcia did manage to get Mom out on the water. It didn't take much convincing; the boat after all, was the SunCruz Casino, which gave Mom the chance to enjoy one of her favorite pastimes. The slots were fine—she actually won a few dollars— but better still was the dolphin show as they traversed the quiet Atlantic waters on the return ride home.
It was a short trip, but Mom and Dad enjoyed themselves, and it was great to see them. It was also fun to have guests so soon after our move. Over the course of the next few years we would have many friends and family members visit us; a few of which had kids near Ian's age, which gave him the chance to show off his new home, and introduce them to the pristine waters of the Keys.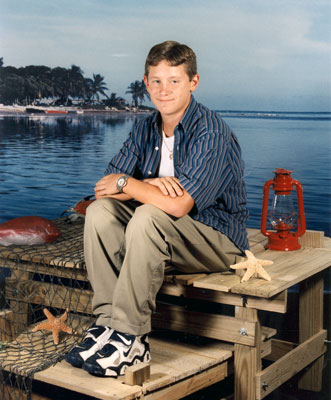 In the fall of 1996 Ian returned to Island Christian School for seventh grade. Not long after, in early September, he had the pleasure of attending his first "Night of Joy" in Orlando with his classmates at the Magic Kingdom at Walt Disney World. Similar to, but preceding Glory at the Gardens, Night of Joy is a late evening after hours Christian music festival, featuring live performances by contemporary Christian music superstars across a variety of genres—including rock, pop and gospel.
In addition to hearing artists perform at several different stages, many popular Magic Kingdom attractions are also open, so there is always the possibility of sneaking away for a quick "distraction." Knowing Ian, I can only guess that he heard a little music while he waited in line for Space Mountain, Pirates of the Caribbean, Splash Mountain, and The Haunted Mansion. Whichever, the fun stopped at 1:00 a.m., and then it was back to reality—and the Keys.
Seventh grade brought a return to the familiar game of soccer, and Ian was given the opportunity to play in the "inaugural (soccer) season" as an Island Christian Eagle. Previously, Island Christian had participated in football; however, this year they dropped their football program, and put those resources into soccer.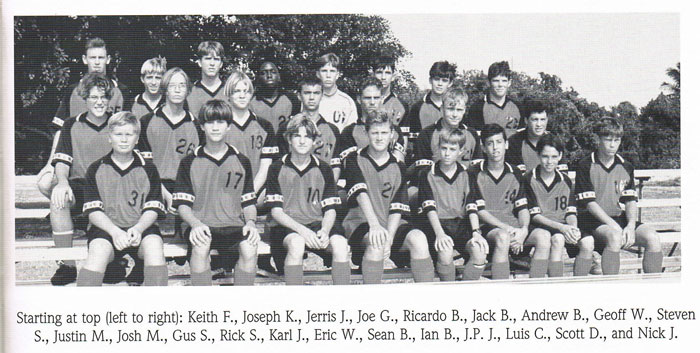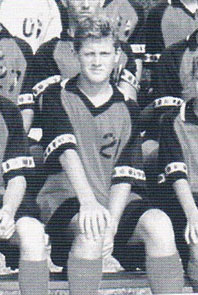 The program was fresh, new, and provided a wonderful opportunity for Ian to bring to the game his earlier experience from Zion Lutheran School.
As it was their inaugural season, the fans anticipated a tough season and most expected little from their team. Undaunted by the diminished confidence of others, the high-spirited boys practiced and played hard, and under the tutelage of Coach Robert Lucas, they finished their 3-5-1 season on a high note, with back-to-back wins—and of the losses, three were by a single point.
Soon it was time for Halloween. Like so many years before, we bought a pumpkin in early October, and carved out a menacing Jack-o'-lantern. What we didn't factor in was the temperature difference between Key Largo and Indiana. Up in the Great, not so White North, a Jack-o'-lantern might last the better part of the whole month, unless you got carried away with a too-hot candle or a prolonged Indian summer sat in. It didn't take us long to figure out that the continually warm and humid October air in the Keys is not conducive to promoting the long-life of a well sculptured pumpkin. In fact, once carved—in just a couple of days—it becomes sunken, sullen and leprous. Within a week, black fungi abounds.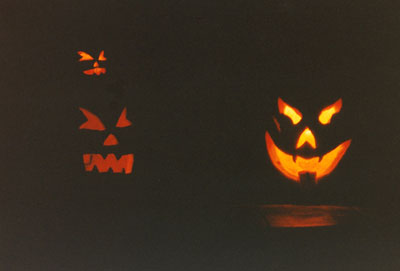 Other familiar Halloween traditions translated much better, and we were most delighted to see the whole family enthusiasm demonstrated for a practice usually reserved for costumed, expectant children—parents in trucks, towing their kids in straw-filled wagons, reminiscent of a northern hayride.
Our first year, we spent the much anticipated night at Mark's. He liked to decorate the outside of his house in a well thought-out motif to spook little trick-or-treaters. The first year, Ian helped out by handing out candy. By the next year; however, Ian was all too happy to assist Uncle Mark by slipping on a serious, but not too frightful mask and hiding in the shrubbery, patiently waiting to scare the Reese's Pieces out of the little boogers.
Before we moved to Florida, Thanksgiving, or at least a portion of it, was always spent at Mom and Dad's just outside of Greencastle, Indiana. Mom's birthday is November 23rd, so we could celebrate both her birthday and Thanksgiving—occasionally on the same day. My sisters would drive up from Tennessee and Alabama, and we'd simply drive back to Greencastle. Once we moved to Florida, my sister Shirley had a better idea. How about we all spend Thanksgiving at her house in Florala?
Florala is right on the Florida-Alabama state line, about an hour north of Destin and Fort Walton Beach. The trip was pretty much equidistant for all of us, ranging between 9 ½ and 12 ½ hours. We drove the farthest, but it wasn't bad. Marcia and I took turns driving, and Ian took turns playing video games and sleeping.
This was our first trip to the panhandle, which is so different from central or south Florida. November temperatures there are quite a bit cooler than the Keys—but a lot warmer than Indiana! It was actually quite nice during the day.
Shirley and her husband Mike introduced us to a number of new restaurants including Pompano Joes, Fudpuckers, and our new favorite, McGuire's Irish Pub. McGuire's is a local favorite and has long since become a tourist attraction. Two of McGuire's specialties are hickory smoked prime rib and Belfast Bar-B-Q Ribs—which are smoked all night. As prime rib and baby back ribs are two of Ian's favorites, he immediately fell in love with both, and with McGuire's. This was the beginning of a tradition that would last many years.
Cooler, winter months ushered in basketball season. Basketball was one of Ian's favorite sports—actually girls were his favorite sport, but that's another story. The problem with basketball was he just didn't have the height to be an aggressive player. Nevertheless, he gave it his all, and he, and we, enjoyed every minute of it. At that time Island Christian did not have an enclosed gymnasium, so the kids had to play outdoors in the nippy upper Keys late-fall temperatures of 77 - 81 degrees. Brrr!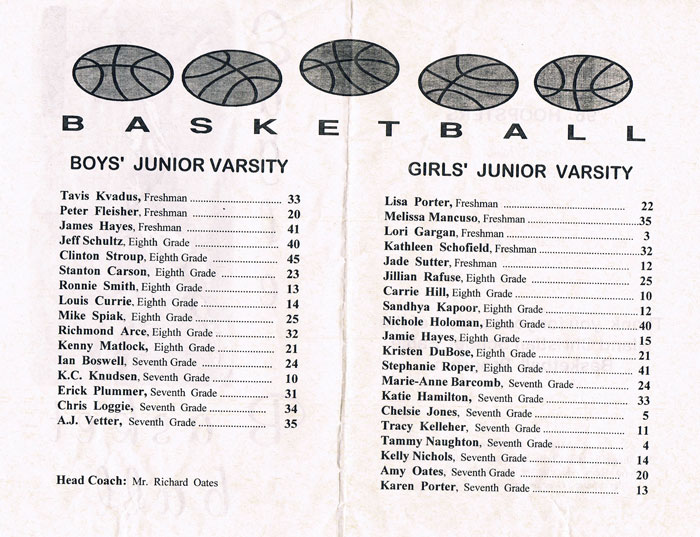 Our first Christmas in the Keys was anything but unremarkable, and so unlike any we had experienced before. Obviously there was no snow, but then again we rarely had snow at Christmas in Indiana. Instead of snow, what we did have was green; lots of green.
In the Midwest, by the time winter rolls around the trees have long since let go of their leaves, so they are brown; as is the grass. The only real contrast, other than the occasional evergreen, is the sky—white and cold, with a thick layer of stratus obscuring the timid, anemic sun, sometimes for days. Here, in the upper Keys, winter is warm, comfortable, and full of color. December daytime temperatures average in the upper 70's with abundant sunshine, brilliant blue skies, and energizing ultraviolet rays.
Since Ian liked the cold about as well as I did, weather this beautiful only encouraged his already exuberant anticipation of Christmas. Not that he didn't play outside during the winter months when we lived up north—he did—but given his druthers, he preferred sitting in front of the fireplace, snuggled up in his beloved blanket, while he watched his favorite movies. Only hot chocolate could improve an occasion this special!
As Christmas approached, one of the first things we noticed was that many people put up outdoor lights and that in a few neighborhoods they go all out—not exactly competing with one another, but certainly each house is decorated well enough that it complements the next. A few of these neighborhoods are well-known for their brilliant displays, resulting in a steady stream of cars comprising a near-endless parade of onlookers who admire the illumination and motion of each and every bulb.
Not to be excluded, I too put up outdoor Christmas lights—for only the second or third time in my adult life—although mine were not quite so impressive. For me, what was impressive was how I put them up; shirtless, adding a bit more color to my already tanned back and shoulders. You can't do that in Indiana; well you can, but who'd want to!
Ian missed putting up the outdoor lights; he was in school. Most importantly, he was there when he was needed most; to add his special touch to our Christmas tree, which for the first few years was the artificial one we brought from Indiana.
Ian would carefully add ornament after ornament, many of which he had made; other favorites were Hallmark Keepsakes that he had chosen over the years. Once he finished, he was always happy to admire the fruits of his labor. He would then anxiously await the arrival of the first brightly wrapped packages.
Soon it was spring, basketball was over, and Ian began playing junior varsity baseball. Another season, another sport, another opportunity to step inside the box and "Swing, batter, batter; swing, batter, batter; swing, batter, batter, swing. . ."