A Leap of Faith
From just after birth, up until the time we moved to New Palestine, Ian grew up attending the Bridgeport United Methodist Church; the same church as Marcia, her mother, and her grandmother before her. Marcia and Ian attended church faithfully, pretty much every Sunday. I on the other hand, grew up an atheist, and had never even been in a church—outside of weddings—much less having attended Sunday service. In any case, I didn't want my lack of faith to influence Ian, so I kept my feelings and beliefs (or lack thereof) to myself, and although I frequently worked Sundays, I was off occasionally, and when I was, I would tag along as well.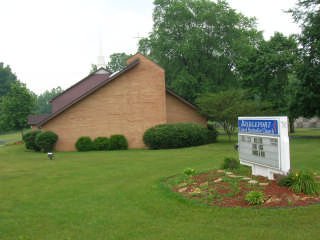 Eventually, I too would experience my own Christian conversion. It was hardly an epiphany; it was much more subtle, and occurred over time. Pride and arrogance can be a powerful motivator, and my journey began with my decision to "do something few Christians ever do" . . . read the Bible. That way I would be better prepared to carry on intelligent debates with my friends. So, with some encouragement from a good friend, I began my reading; and read, I did.
By now we had moved into the new house, and with the move we changed churches. For a time we attended the New Palestine United Methodist Church. This was a great church, with a very friendly and open congregation, and Pastor Wally was great. Unfortunately, before long he retired, and soon after, we began to miss our old church.
Meanwhile, over the course of those several months, as I continued my reading and studied scripture, I began to accept Jesus Christ as my Lord and Savior. I suppose the timeless adage, "the Lord works in mysterious ways," is true. Not long after, every Sunday we began to drive the extra thirty minutes or so back to Bridgeport United Methodist—back to Pastor Max, and back to our familiar church family.
I'm not sure when we first decided to move to Florida. What I do know is that we began considering it not long after Marcia and I first traveled there in 1982. Our "consideration" became all the more serious once Ian got older, and he too, was ready to move. Our migration was basically about two things, first, the allure of abundant sunshine, warm water, and salt air; second, the realization that Indiana winters weren't going to get any better. Plus, I lived by the maxim that too many people waited until they were old to move south, and that it would be best for us to move to Florida while we were still young—that is, young enough to enjoy it.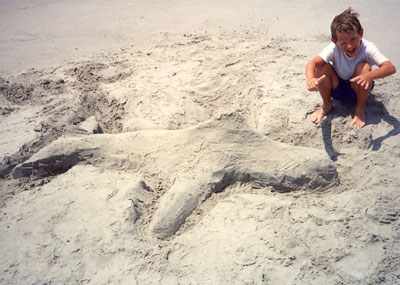 Contributing to our sense of urgency was our summer vacations. We continued to visit the Keys and Walt Disney World each year, and before long we were also vacationing with Marcia's Dad and Bonnie, and their friends at Ocean Isle Beach, North Carolina.
We loved Ocean Isle Beach, especially Ian. And what's not to love? Fun in the sun, lots of surf to run and play in, Boogie Boards, long walks on the beach at night looking for crabs, and of course we were always on the lookout for sharks!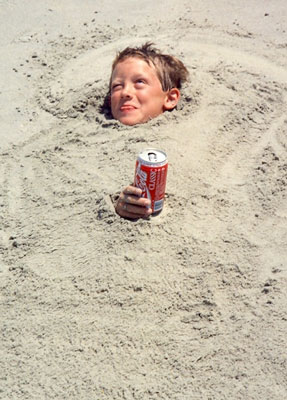 At the time, Ocean Isle Beach was relatively unknown, which made it a great place to simply rest, relax and leave life's cares behind—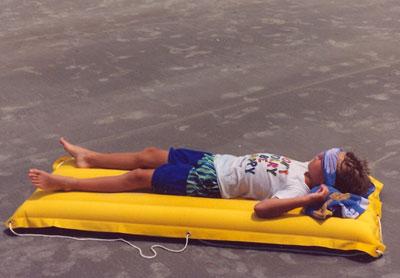 —and a little rest and relaxation was important, because once we left Ocean Isle Beach bound for the Keys, we would usually stop by Orlando to visit Mickey.
Park after park, Ian had many favorite attractions; however, the roller coasters were always his favorite. By now he was an adrenaline junkie, and as far as he was concerned, the faster, taller, and longer the better. The only way to make it better was to ride it upside down, backwards, and in the dark! We always had a great time, but the days were long, and the pace was grueling. After several days of this, at both Disney World and Universal Studios, we were ready for the tranquility that could be found just a few hours south.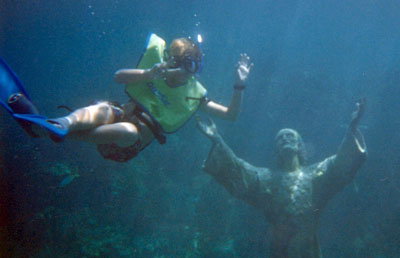 It was here that we nurtured our love for Florida, the ocean, and the beautiful marine environment of the Keys—and although we didn't know it at the time, Ian was already well on his way to developing important job skills that he would use in just a few short years.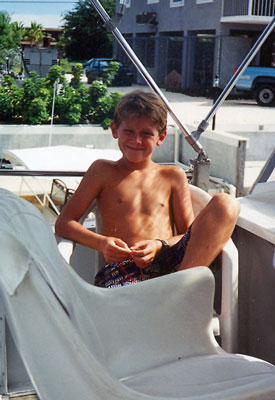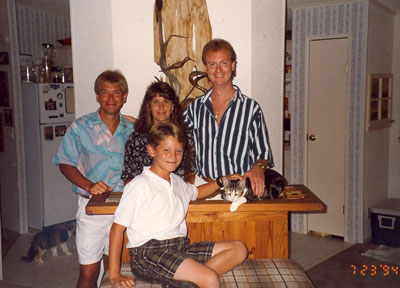 Unfortunately, all good things must come to an end. Every year, back to school, back to work, and back to the dread of a swiftly ending summer and the sudden approach of fall. Only the music and musings of Jimmy Buffett could pull us—or at least me—through yet another winter. Actually, Jimmy got me through a number of winters, and with each passing year, I related a little more.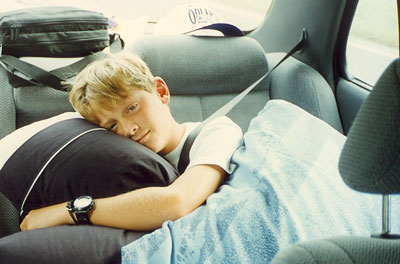 Who hasn't listened to a Pirate Looks at Forty, as they approach that infamous milestone, and has not related to the feelings of that lost, anachronistic mariner?
Listening to all that music also had an influence on Ian. I had thirty-five Buffett CDs, so he heard it at home and in the car, and he knew every song. I know, because we took him to see Jimmy twice, and during both concerts, he sang along with every song. The first time he was only five, and the couple next to him simply couldn't believe it!
Eventually the decision was inevitable—we decided to move to Florida. We chose Key Largo so we could be close to Mark, and since we had spent a fair amount of time there on vacation, it just felt right. Next we carefully devised our plan: Sell the house, quit our jobs, move, and figure it all out when we got there. Perfect! So we put the dream house up for sale and waited . . . and waited . . . and waited.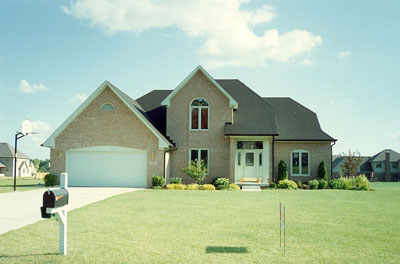 Meanwhile Methodist Hospital was downsizing and was going to lay off a considerable number of employees. Although pink slips were generally given to less-senior employees, the department heads had some discretion, and since mine knew that we were moving to Florida, I was offered a voluntary separation package—which I accepted in a heartbeat.
I finished my time at Methodist, and while we waited for the house to sell, we began to burn through my separation package. Still we waited. Finally we began to think that maybe it just wasn't meant to be, resigned ourselves to the fact that the house just wasn't going to sell, and figured I'd better start looking for a job. Any hope of moving to Florida was fading fast, and we decided that if we couldn't sell by Valentine's Day, we'd stay put. After a few weeks I began working as a merchandiser for the now defunct computer superstore Elek-Tec, in Fishers, while I looked for a "real job" that would pay the bills.
A few months later the contract with our first realtor ran out, and we received a phone call one evening from another realtor, who said confidently that she could sell our house within three weeks. We considered her offer, and in desperation decided to take her up on it. In any case, a move was now inevitable. I had been offered a job as a firefighter for the City of Lawrence Fire Department, which meant that we would have to move back into Marion County.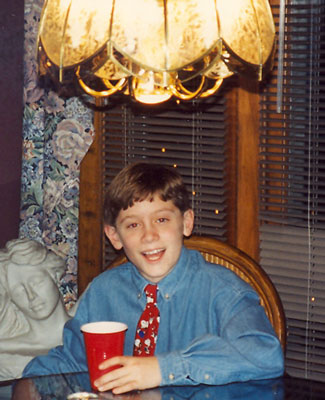 On Valentine's Day evening, we received the call. It was Wednesday night. I had completed the physical and all pre-employment requirements for Lawrence, and was just waiting to sign the final paperwork on Monday. It was the realtor. She had not one, but two offers on the house. We accepted the better of the two offers, which would give us a small profit, and most importantly, free us to move back to the city.
But wait! What about Florida? What about the Keys? Selling the house once again opened the possibility of moving to the Keys, and like a miracle, we had met our Valentine's Day deadline. But we still weren't convinced. It had taken so long to sell the house—and what about my new job?
The next few days were spent in long discussions, sleepless nights and a lot of prayer. Not willing to actually ask God for a sign, we simply prayed for him to help us to make the right, best decision. It was now February 18th, and when we arrived at church that Sunday morning, we were at once astonished and relieved—we had our answer. We didn't expect it to come so quickly, but once we were handed the church bulletin, it was clear. This was February, in Indiana, in the dead of winter. What are the odds?

We now had five weeks until the new owners closed on our house, and we had to seriously have a plan. We knew the most important thing was school, then housing (we could always store our stuff and stay with Mark), and finally jobs. We decided that Marcia should fly down and register Ian at Island Christian School, and maybe scope out rentals and the job market. In the meantime, she sent out a bunch of resumes to local physicians, and we asked Mark to be on the lookout for houses.
Three weeks before the move, Marcia flew down for four days. Mark picked her up at the airport, and the race was on. Her first day in the Keys, she got Ian accepted and registered at Island Christian School. Day two, she looked at a couple of houses Mark had found just a few miles from him, and rented one. Day three, she accepted a job offer working for an orthopedic surgeon; and on day four, she laid out at the pool. Not bad for a few day's work. She took care of the biggies—now only one thing left to do . . .
Before we moved and left our home church, I wanted to be baptized. And once he found out, Ian wanted to be baptized with me. Marcia of course, was baptized as a child. Although Ian was raised in the church, he had not been previously baptized because we had decided early on that we would let it be his choice when the time came; when he could clearly understand the seriousness of the commitment he was making to the church and God.
So on March 24th, two days before we left Indiana: