Changes In Latitude
The load-out took much longer than we anticipated, nearly two full days—and that was with the help of a close friend. Consequently we were way late leaving the old homestead—so much so, that Marcia suggested spending the night at her Dad's, and leaving early the next morning. Tired and grumpy, I wouldn't hear of it, and insisted that we go ahead and leave and make it as far as we could. So, off we went.
First, we medicated the cat—more about that in a moment—gathered our last few belongings, and headed south. The "kids" were with me in the 26ft rental Penske; Mercedes road shotgun in her kennel, with Ian next to me on the bench. Behind us, we trailered our Camry, and Marcia led our small caravan in my little green Toyota truck. Every inch of the Penske was filled with "stuff," as was my truck bed and the Camry's trunk and interior. There was however, enough room in the Camry to squeeze a small portion of a rather large Jolly Roger into the back window to be displayed in reverence to our newly adopted home and lifestyle.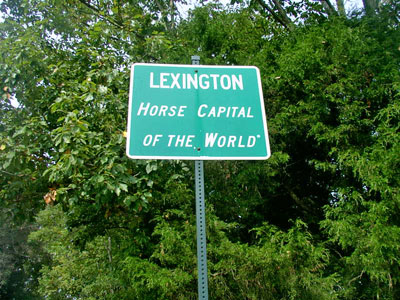 That first night, we made it as far as Lexington Kentucky; exhausted, after only a three hour drive, but it was a start. The short drive was little more than symbolic, but nevertheless, it was important—at least to me. Along the way Ian and I had listened to music and mused aloud about what might lay in store for us; Mercedes, for her part, slept quietly, with little more than a muffled mew the entire time.
We hit our exit, fueled and ate, and finally, as we settled into our motel it was time to get Mercedes out of her kennel. Eyes glazed over, she was all but in a trance, lying in a muddled heap. Eventually, after no small measure of encouragement, we were able to coax her from the refuge of her kennel onto our hotel room floor. It was all she could do to barely stagger sideways as she struggled to hold her head up.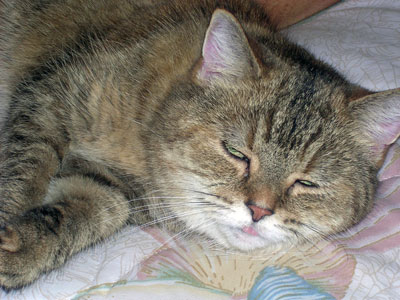 A week or so before we moved, we made sure Mercedes had all her shots and received a good check-up. Her vet also warned her (us) about all the unsavory characters we would find in the Keys; things that slither, and others that sting. We paid little attention—Hello? She's an inside cat!
We told the vet that our major concern was that she might get car sick during the move, and asked him if there was something we could give her to make the trip less stressful. He prescribed a mild sedative, but due to her small size, he recommended that we only give her half the dose—which we did. This however, was apparently still too much, so we found ourselves confronted with the feline equivalent of Tommy Chong. Needless to say, we decided to forgo the sedative on the subsequent legs of the trip.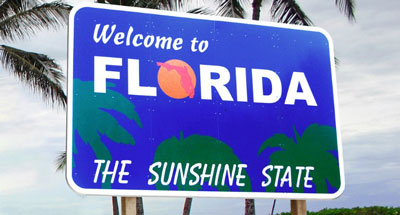 We rolled out of Lexington early the next morning, and made it as far as Leesburg, Florida, before we decided to call it a day. After a good night's rest, finally, mid-afternoon day three, Thursday, March 28, 1996, we rolled into Key Largo. We were tired, but excited, and on the second and third days of the trip Mercedes did just fine. Stone sober, but fine—thanks to no kitty Quaaludes! BTW, when we left Indiana it was 26 degrees, and the wind was howling. With the wind-chill it felt like the low teens. When we pulled into Key Largo it was 86 degrees. Nice.
Our new home was perfect, and Ian and I were both ecstatic. Mark had done a good job pre-screening "potentials," and Marcia had made a perfect selection from his list of recommendations.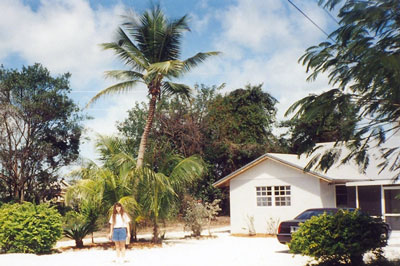 The house was simple and quite a bit smaller than the one we left; ground level, single story 3/2, steel reinforced concrete construction, and our water heater was in the attic! "Mercedes, I've a feeling we're not in Indiana anymore." Our landscaping was also a big change: coconut and sago palms; Florida holly and eucalyptus; and pea rock—no grass—which meant that Ian would be forever saved from the drudgeries of mowing.
As for wildlife . . . lizards, endangered tree snails, eight feral cats, and our next-door neighbor Henry, a potbellied pig. Oh, we also now lived adjacent to a vacant, wooded lot, which in the Keys equates to a lot of things that slither, and others that sting—yuck!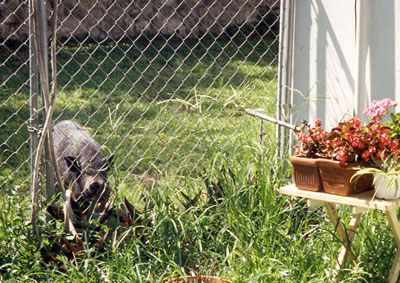 Shortly after we arrived, Mark met us at the house and we began to unload a few essentials. Before we could hardly work up a sweat, we were welcomed by a phone call from Todd Firm. Todd is a friend of Mark's; they had worked together previously at John Pennekamp State Park, where Todd ran the Discovery glass bottom boat before later buying Keys Diver. We had met Todd a few years before, while we were on vacation, and we had been out on both the Discovery and Keys Diver.
At this particular time, Todd split his time between running Keys Diver, and managing his pro shop. As luck would have it, he was running the boat on Friday, and he invited us out for the afternoon. Keys Diver is a 47 passenger snorkel boat, well-appointed with large sunning areas and also plenty of shade, and a nice fresh water shower. Unfortunately, as much as we wanted to go, as I told Todd, I had a rental truck full of everything we owned, which I had to unload and get back to the rental company; therefore, I would have to pass. He countered that he was also on Saturday and extended his invitation—which I accepted in a heartbeat.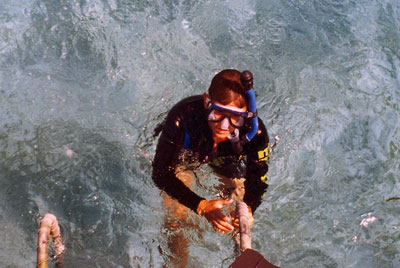 We finished unloading the truck on Friday, returned it, and began to settle in. Soon, it was Saturday afternoon, and I found myself on Keys Diver with Marcia, Mark, and Ian, soaking up the sun, shooting the breeze with Todd, and having the time of our lives, five miles offshore, in our new "backyard."
The water was chilly, but Ian had a great time snorkeling. Later, as the afternoon wound down and we began our return to shore, Todd offered me a proposition. Within a few days his divemaster would be heading north for the summer, and he would have an opening for a full-time mate. Would I be interested?
Living in the Keys, I have generally believed that there are two kinds of people living here; those that are running away from something, and those that are running toward something. We (I think), were, and are the latter. Likewise, people either move to the Keys for a job, or they move here for the Keys, and a job is secondary. We were number two; we moved to the Keys in search of warm weather and our own kind of paradise. We were thankful that Marcia already had a job; I on the other hand had only assumed that I would eventually find work as a field paramedic. Now I had a chance to at least try living another dream—life on the water.
On Monday, Marcia started work at Florida Keys Orthopedic and Sports Medicine Center, and Ian picked up where he left off, in sixth grade—only now he was at Island Christian School. I was left putting the house in order, and preparing for my first day of work—because just two days earlier, I had accepted Todd's offer. I would begin as a mate, with the expectation of obtaining my divemaster certification as soon as possible. I had my basic open water certification, and would work toward the completion of advanced open water, rescue diver, and divemaster on my days off in the upcoming months.
Ian settled into Island Christian School quickly, and in no time at all made lots of new friends. For him it was natural; he had lots of experience—since we had moved every couple of years, and he had changed schools several times. But to be honest, the children of the Keys, like their parents, were open, non-judgmental, and very easy to get to know. The quick adjustment also offered another plus; it gave him the opportunity to attend his first Christian concert with his new friends at Glory at the Gardens, held at Busch Gardens, Tampa, just three weeks after he started school.
Unfortunately none of Ian's new friends lived in our neighborhood, or even close, so after school was typically spent at home playing video games or watching his favorite movies—as he always did—over and over and over again. He memorized and could readily recite nearly every line uttered by his favorite protagonists: James Bond, Indiana Jones, Bruce Wayne, Marty McFly, Clark Griswold, Luke Skywalker, Peter Venkman, and Pep Streebek, just to name a few.
Marcia and I usually arrived home from work about the same time, and then the remainder of the evening was family time. Occasionally we'd go to Marks, but most often he would join us for dinner on his way home from work. I'd man the grill, Marcia would handle the big stuff, and we'd have a proper family meal, followed by a little TV.
At some point in the evening, we'd feed the feral cats, which basically consisted of opening the back door and watching them scramble (since they were afraid of humans), putting out food and fresh water, and slipping back inside. As we watched quietly through the screen door, eventually the blind momma cat would lead her kittens, each affectionately named by our next-door neighbor Lisa, over for a safe, supervised meal. Yes, no doubt about it, Ian was exposed to real culture.
We arrived in the Keys late in the school year, and as good as it was, soon school would be out—which could have presented a real problem. Ian was precocious and responsible, but nevertheless, we weren't prepared to leave a twelve-year-old home alone, all day, with no supervision, especially since we were still settling in ourselves.
Fortunately, before we could even begin to worry about what we were going to do, Todd came to the rescue. He suggested that once school was over, Ian could come out with me, help out with handing out gear, cleanup and other chores. He could spend a little time on, and in the water, all the while learning a bit about the snorkel business and the nuances of customer service. Perfect. We had a solution to day care, Ian would be safe, we would know where he was, and he could learn all about our precious and fragile marine environment.
Since we left a Methodist church, we naturally wanted to join a Methodist church in the Keys. So much the better that Mark already attended one; unfortunately, it was in Islamorada, 20 miles from home. Convenient for Mark, since he worked nearby and the church was sort of on his way to work. But for us, driving to church, we drove right by a Methodist church, 10 miles closer to home. Go figure. In any case, we loved "Mark's church." What made the church was Reverend Jim. Jim is a nice guy, a great pastor, and ecclesiastical comedian. When we joined the church, the congregation was . . . let's just say a little "older." So for years, Jim affectionately referred to us as his "youth group."
We hit it off with Jim from the get-go. Remember how we occasionally had dinner at Mark's? Well one night we had Reverend Jim over for dinner—at Mark's. Mark did the whole dinner prep, and Marcia, Ian and I made it in from work and school early. Mark had a nice, screened in porch, and the evening weather was nice, perfect for a little outside dining. We were relaxing on the porch, enjoying an adult beverage (relax—only three of us), and before long we could hear the rumble of an aging Ford truck, muffled and proceeded by Aerosmith blaring from a tape deck. It was of course, Jim. My kinda Rev.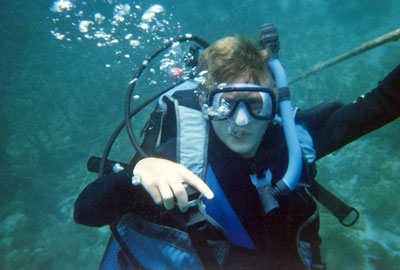 Toward the end of June, only three months in, Ian began and completed his Open Water Diver course, and at age 12 became a certified "junior" scuba diver. His instructor was Melissa, a friend we had met on vacation many years before, when she worked full-time for Todd as a divemaster. She was an excellent and patient instructor, all well and good, because although Ian loved the water and was quick to learn skills, he wasn't much for book work or the tests.
When I first went to work for Keys Diver we were slammed with tourists every trip, money was good, and I made a small fortune in tips; however, once spring break ended, everything changed. Passenger numbers fell, tips turned to crap, and we'd lose trips to the weather. Soon reality sank in, and I began to realize that my original plan would soon be in my future.
As luck would have it, about that time a position opened up with the County EMS system for an operations shift supervisor. I applied for the position, and fortunately, since I was nationally registered, I was able to apply for reciprocity and quickly obtain my Florida paramedic certification, which was required for the job. I interviewed, and after a short, nervous wait, I was fortunate enough to be selected. It was a good job, with a steady paycheck and good benefits, and the best part—the shift work would allow me to still work part-time on Keys Diver. Unfortunately, it did present one problem, what to do with Ian.
Once again, Todd came to the rescue. He offered to let Ian come out on the boat on the days I worked for the County. He could help the divemaster hand out gear and refreshments, and he would still have lots of time to snorkel and enjoy the water.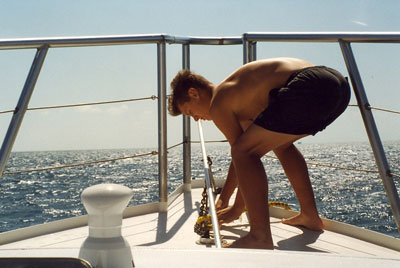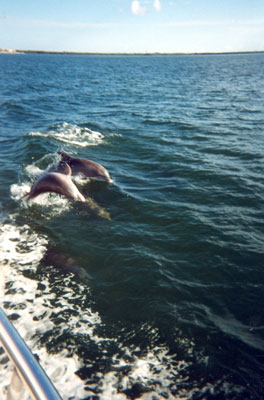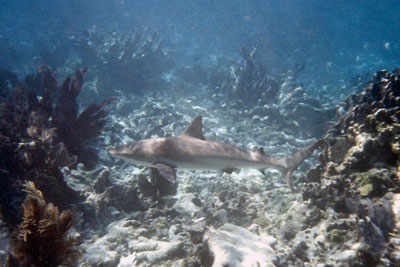 We took him up on his offer, and Ian had a great summer. He learned a great deal about fish and marine life, and perhaps most importantly, he learned a lot about customer service, learning people skills that would later serve him well. How to truly make a memorable experience for someone on their vacation. Easy to do on a good day, the challenge is doing it when the weather and the seas turn to poop.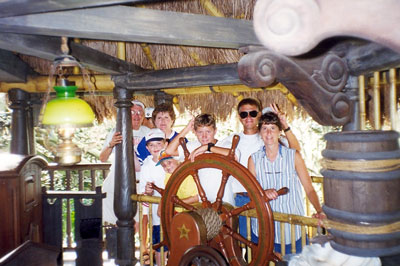 I was set to start my new job at the end of July, which was perfect because we had previously planned a week's vacation at Anna Maria Island about a week before. We had rented a condo next to the beach with Marcia's Dad and Bonnie, Mark, and Logan and Kelsey, Marcia's sister's children. This trip was one relaxing week at the beach, a lot of time in the swimming pool, and a spontaneous one-day diversion to the Magic Kingdom at Walt Disney World.
Marcia and I soon learned that Keys Diver would not be Ian's only avenue for spending "quality time" on the water. We were astonished to discover that more than a few of his classmates had boats, and they actually went out on these boats by themselves, on the open water, to God knows where! More Keys culture shock—remember, we came from the oceanless Midwest, and at our age, we were forever ingrained with TV memories of "Flipper" and young "Bud Ricks;" adventurous, innocent, gullible, and always in trouble.
Soon the inevitable happened; Ian was invited to join some young scallywags out for a day at sea. Begrudgingly we let him tag along, and somehow, thank God, it all worked out, as it always did—this wasn't TV, and it wasn't the sixties; although they usually found trouble—or trouble found them. One friend that Ian went out with regularly was AJ. His father is a Baptist pastor, and AJ's friendship with Ian served as an introduction to the church's youth group, safe activities, and a whole new circle of friends.
Before long, summer wound down, and it was time to begin yet another year of school. Seventh grade would bring many changes, starting with a change in scenery—moving on up . . . to the high school!